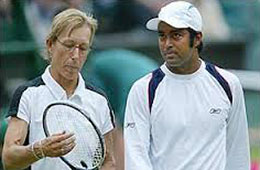 New Delhi: The legend of Martina Navratilova continues to remain strong as she partnered India's numero uno, Leander Paes, for an exhibition tie against Mahesh Bhupathi and Sania Mirza in the Tennis Masters, prelude to the IPTL, here at the DLTA courts.

Navratilova, 59, who has 18 Grand Slam singles titles against her name, gave glimpses of her greatness to the motley crowd that braved the nippy evening. With her "favourite mixed doubles partner" by her side, Navratilova and Paes split the honours for the evening against Bhupathi and Mirza for an even score 1-1.
Navratilova and Paes, who have won the Australian Open and Wimbledon in 2003, took the first set 6-2. The pair took early lead of 3-1 and never looked back to wrap up the first set 6-2. In the second set, things remained on an even keel till 5-5 before Mirza and Bupathi inched ahead to close the set 7-5 to level the score. At that stage the veterans decided that to close the tie at 1-1 after 47 minutes of quality tennis.