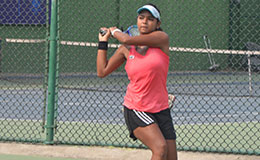 New Delhi: Sabhyata Nihalani pulled off a major upset as she dumped top seed Sathwika Sama 6-0, 7-5 in the Girls Under-16 quarter-finals in the Fenesta Open Junior National Tennis championship on Thursday.

As the junior tournament reached its climactic stage, there was a bit of bad luck for Sathwika as she hurt her shoulder. However, there was no taking away credit from Sabhyata as she used a good range of groundstrokes to force a win.

There was yet one more upset in the same section when second seed Shivani Ingle made too many mistakes and lost her quarter-final to Akanksha Bhan. Akanksha won 4-6, 6-4, 6-1 with the final set being a rout. The other two girls to win their quarter-finals in under-16 girls were Mahak Jain and Prinkle Singh.
In Boys' Under-16, for the first time top seed Parikshit Somani was tested as he needed to dig out extra potent strokes to prevail over Sivadeep Kosaraju 6-4, 7-5 in the quarter-finals. Adil Kalyanpur, the second seed, walked through to a smooth 6-4, 6-2 win against Yugal Bansal. Third and Fourth seed Siidhanth Bhatia and Nitin Sinha also booked their last four berths.

In the Girls Under-14 event, top seed Prinkle Singh was at the receiving end as she was caught unaware by Sharannaya Gaware, with the latter winning 6-3, 6-3. Shreya Gulia, seed two, defeated Muskan Gupta 1-6, 7-5, 6-4. The third seed Mehak Jain had an easy outing in the quarter finals and beat Shaikh Humera 6-1,6-1.

In Boys' Under-14, second seed Sacchitt Sharrma comfortably moved into the semi-finals by defeating Aaryan Mehul Zaveri 6-2, 6-3 while fifth seed Shashank Teertha whipped Rhythm Malhotra 6-1, 6-1. Mann Maulik Shah and Shashikant Rajput also entered into the semi-finals.

Quarter final results:

Boys Under 16
Parikshit Somani (Seed 1) bt Sivadeep Kosaraju 6-4,7-5
Adil Kalyanpur (Seed 2) bt Yugal Bansal 6-4,6-2
Siddhnath Bathia (Seed 3) bt Dakshineshwar Suresh (Seed 5) 6-6,6-0
Nitin K Sinha (Seed 4) bt Muthu SenthilKumar 6-1,6-2

Girls Under 16
Sabhyata Nihalani bt Sathwika Sama (Seed 1) 6-0,7-5
Akanksha Bhan bt Shivani Ingle(Seed 2) 4-6,6-4,6-1
Mahak Jain (Seed 3) bt Shaikh Humera 6-1,6-1
Prinkle Singh bt Vaidehi Chaudhari 6-3,6-4

Boys Under 14:
Sacchitt Sharrma (Seed 2) bt Aaryan Mehul Zaveri 6-2,6-3
Shashikant Rajput bt Ishan Anirudh Sethi 6-3,7-5
Shashank Teertha (Seed 5) bt Rythm Malhotra 6-1,6-1
Mann Maulik Shah bt Madhwin Kamath 6-4,6-4

Girls Under 14
Sharannaya Gaware bt Prinkle Singh (Seed 1) 6-3,6-3
Shreya Gulia (Seed 2) bt Muskan Gupta (Seed 9) 1-6,7-5,6-4
Salsa Aher bt Mubashira Shaik (Seed 3) 6-1,6-3
Sanya Singh (Seed 4) bt Sarah Dev 2-6,6-4,6-1