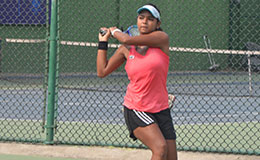 New Delhi: Young Himanshu Mor lead the charge of the seeds as he ousted Alagappan Kanagasabai 6-3, 6-4 in the under-14 section of the Fenesta Open juniors National tennis championship on Tuesday.

With a packed schedule running in the second week and matches also being played under lights at night, the action has been thick and full of interest for the budding talent.

In another under-14 boys' match, promising Shashank Theertha, the fifth seed, was in command as he stroked freely to get past Abdul Kareem Khan 6-3, 6-4 while S. Boopathy rallied hard in a match of fluctuating fortunes before beating Siddhant Bhavnani 2-6, 6-2, 6-2.
In the girls' under-14 section, top seed Prinkle Singh was in confort zone as she moved past Sandeepti Singh Rao 6-0, 7-5 in a well contested second set. Third seed Anjum Shaik needed less time to outslug Trisha Vinod 6-1, 6-2 in the same section.

Parikshit Somani underlined his supremacy in the under-16 section by toying with Sanket Tomar as he won 3-6, 6-2, 6-2. Other winners in this section included Dhakshineshwar Suresh and Yugal Bansal. Both won in straight sets.

In the Girls under 16 Sathwika Sama had an easy second round as she beat Janvi Patel 6-0,6-1

Boys Under 14

Himanshu Mor (Seed 1) bt Alagappan Kanagasabai 6-3, 6-4; Sacchitt Sharrma (Seed 2) bt Uddayvir Singh 6-0, 6-1; Dev V Javia (Seed 4) bt Sanskar Jeswani 6-1, 6-1; Shashank Theertha (Seed 5) bt Abdul Kareem Khan 6-3, 6-4; Shashikant Rajput bt Naresh Badgujar 6-1, 6-1;Ishan Anirudh Sethi bt Ritik Rana 6-1, 6-1; Bikramjeet Singh Chawla bt Kevin Patel 6-3, 3-6, 6-1;Sarthak Suden bt Naman Sharma 6-2, 6-3; Rhythm Malhotra bt Aman K Patel 6-2, 6-3, 6-0; Dhrumil Thakkar bt Kanishk Pal 6-2, 6-1; Mann Shah bt Jaishvin Sidana 6-3, 7-5; Divesh Gahlot bt Dhruv Tangri 6-4, 6-2; Madhwin Kamath bt Vandit Jaiswal 6-1, 6-2; Rithvik Choudary bt Kushan Shah 6-0, 6-0; Aaryan Zaveri bt Deepender Grewal 6-2, 6-2; Boopathy S bt Siddhant Bhavnani 2-6, 6-2, 6-2

Girls Under 14

Prinkle Singh (Seed 1) bt Sandeepti Singh Rao 6-0, 7-5; Mubashira Anjum Shaik (Seed 3) bt Trisha Vinod 6-1, 6-2; Sanya Singh (Seed 4)bt Nisha Rani 6-0, 6-2; Kiran Kal Kal bt Anu Verma 5-7, 6-2, 6-2; Sharannaya Gaware bt Maanya Vishwanath 6-0, 6-0; Kritika Umesh Chhabra bt Damini Hoon6-0, 6-0; Vanshika Choudhary bt Rachana Reddy 1-6, 7-5, 7-6(5); Sarah Dev bt Vineetha M 6-1, 6-2; Tanisha Kashyap bt Archita Mahalwal 6-1, 7-5; Bhakti Parwani bt Reetika Grewal 6-2, 7-6(4); Salsa Aher bt Gargi Pawar 6-3, 6-0; Richa Chougle bt Malikaa Marathe 6-2, 6-3; Ashrita Nagpal bt Aesha Hiten Patel 3-6, 6-2, 7-6(1); Muskan Gupta bt Riya Uboveja 6-0 6-0; Rutuparna Choudhury bt Punyatoya Mohapatra 6-2, 6-0; Shreya Gulia bt Mushrath anjum Shaik 6-2,6-0

Boys Under 16

Parikshit Somani (Seed 1) bt Sanket Tomar 3-6, 6-2, 6-2; Adil Kalyanpur (Seed 2) bt Ashish Anand Komaragiri 6-1, 6-3; Siddhant J Banthia (Seed 3) bt Akhil Duhoon 6-0, 6-2; Nitin Kumar Sinha (Seed 4) bt Karan Srivastava 7-5, 6-1; Dhakshineshwar Suresh (Seed 5) bt Dev V Javia 6-2, 6-0; Yugal Bansal bt Kunj Kotak 6-2, 6-2; Mrityunjai Badola bt Akshat Agarwal 6-2, 6-3;Sumit Pal Singh bt Ashutosh Tiwari 6-2, 6-1; Danish Ahmad bt Kushal Yedla 6-3, 6-2; Calvin Gomei bt Akhilesh Reddy 6-7(3), 6-3, 6-3; Muthu Aadhitiya Senthilkumar bt Sahishnu Sharma 6-3, 7-6 (2); Himanshu Mor bt Varun Venkat 6-3,7-5; Aditya Vashisht bt Megh Bhargava Kumar Patel 4-6, 6-1, 6-3; Abhimanyu Vannemreddy bt Kelvin Patel 2-6, 6-1, 6-1

Girls Under 16

Sathwika Sama (Seed 1) bt Janvi Patel 6-0, 6-1; Mahak Jain (Seed 3) bt Sonashe Bhatnagar 6-1, 6-0; Sabhyata Nihalani (Seed 5) bt Shajiha Begum Syeda 6-3, 6-2; Shivani Manjanna bt Radhika Yadav 6-1, 6-1; Shaikh Humera bt Muskan Gupta 2-6, 6-1, 6-3; Akanksha Bhan bt Lasya Patnaik 6-1, 6-3; Shivani Amineni bt Ayesha Hiten Patel 6-4, 6-1