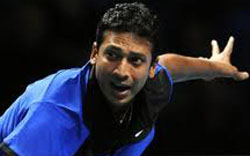 Mysore: Post the success of their thirty-five tennis academies across the country, the management team of the Mahesh Bhupathi Tennis Academies (MBTA) today announced the launch of their latest academy in Mysore.
The Mysore chapter of the MBTA will be housed at the Raghuveer Tennis Academy and at the helm of the coaching sessions will be N.P. Raghuveer. Mr. Raghuveer who has been amongst the top tennis players in India during eighties has spent the last twenty years coaching students at a prestigious Tennis Academy in the US. Currently he coaches some of the top junior players in the country who participate at the AITA and the ITF level. He will take on the role of head coach at the academy and will be joined by a coaching staff of 6 coaches who will assist him in delivering quality and precision driven coaching programs that the MBTA is reputed for.

Moving ahead this academy will also aim to be a high-performance centre given its access to quality infrastructure of eight clay courts and to residential accommodation for potential students.

Arjuna Awardee and double Asian Games Gold Medalist, CEO of MBTA Gaurav Natekar, the driving force behind MBTA was delighted at the prospect of the vision of the academy taking a step ahead. "Over the years, Karnataka has produced some great champions of the sport who have performed well on both the national and international circuits. Given the growing interest in the sport in Karnataka, we strongly felt there was no better place than Mysore to set up the thirty-sixth chapter of the academy." said Mr. Natekar.

MBTA founded in 2006, by 12-time Grand Slam winner Mahesh Bhupathi was conceptualized with the objective of imparting professional, world-class training (both practical and theoretical) and highly specialised coaching to youngsters of all age groups. MBTA was also developed to increase the accessibility of tennis by ensuring that people across all socio-economic groups have the opportunity to experience the joy of the sport. Over the years, MBTA has established itself as India's premier tennis academy imparting international quality coaching through a team of 90 professionally trained coaches to over 10,000 children across various levels.

Tennis legend Mahesh Bhupathi, Managing Director of MBTA said "The team at the MBTA work tirelessly conceiving, developing and reinventing standardized coaching programs and events for children. Programs when implemented by our experienced coaches feed into the ecosystem of developing strong tennis talent in the country. Building on the success of our last thirty-five academies, I am sure that this academy will be no exception. Though this is a milestone for us, it is only a sign of bigger and better things to come tennis' way."

With the launch of the thirty-sixth academy in India, MBTA is also present in Dubai and is now working to expand into Muscat, Abu Dhabi.