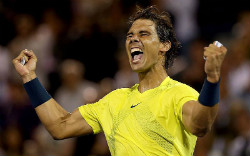 New York: Rafael Nadal defeated Novak Djokovic, 6-2, 3-6, 6-4, 6-1 in the men's final to win his second US Open crown at the Arthur Ashe Stadium here on Monday. It was Nadal's 13th Grand Slam singles title, moving him into third place all-time amond men, just one shy of Pete Sampras' 14 and four behind Roger Federer's 17.
Nadal had missed last year's US Open due to a knee injury, and called it "very, very emotional" to return and win the title. "Probably only my team knows how much [today's match] means for me. Playing against Novak always is a very special feeling. Probably nobody brings my game to that limit like Novak did," he said during the trophy presentation.
In Nadal's last two visit to Flushing Meadows, he had also faced Djokovic in the final. Nadal won in 2010 to complete the career Grand Slam, and Djokovic won the following year.

The end of the third set proved the pivotal stage on Monday, in the 12th US Open final featuring the top two seeds. Nadal, who had dropped three straight service games at the end of the second set and start of the third, rallied from triple break point down in the ninth game to hold serve. He broke Djokovic in the next game to take the two-sets-to-one lead and conceded just one more game, clinching the victory after three hours and 21 minutes.
"It's like it was a momentum change out there from love/40, 4-all third set, he started playing really good," said Djokovic. "He served well few points. I didn't do anything I felt wrong in these few points. He didn't make a mistake. He served well. He came to the net. All the credit to him. I had my momentum from midway second set to end of the third where I was supposed to use and realise the opportunities that were presented to me, and I didn't do it. I didn't deserve to win in the end."

Nadal earned a total of $3.6 million, including $1 million in bonus prize money for winning the 2013 Emirates Airline US Open Series Bonus Challenge. He is the first player since Andy Roddick in 2003 to complete the summer hard-court hat-trick by winning the Coupe Rogers, the Western & Southern Open and the US Open.
Courtesy: www.atpworldtour.com
- See more at: http://www.indiansportsnews.com/top-stories/23607-nadal-beats-djokovic-to-win-his-second-us-open-title.html#sthash.1a72YTzd.dpuf