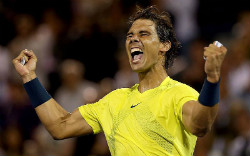 New delhi: Coming back from injury is always tough and it does not make it easier if the sport is tennis which requires fitness of the highest level. Rafael Nadal without a shadow of a doubt is probably one of the fittest athletes alive as his coming back to form after injury only goes to show the kind of effort he puts in his game.
Known as the 'King of Clay' Nadal has not done too badly in hard courts this season, hardly losing a match and it was only apt for a guy like him to win the US Open after the way he has played this season. Rafeal Nadal has raised the bar for men's tennis and his efforts in the court are good enough to vindicate the point.
Roger Federer's record of 17 grand slam titles is no longer impossible as Nadal, who is only 27 and five years younger to Federer, seems more likely to break the record and create a new one after clinching the US Open which was his 13th grand slam title, only four away from Federer.

Having come back from a serious knee-injury this year, Rafael Nadal has lost only three matches in the entire season and have won 10 titles which includes a winning record of 60 victories this season.
Terming it as the most emotional season so far Nadal looks good to win a few more before ending the season and seems all set to end up among the greatest ever to have picked up a tennis racquet.
The fact that separates Nadal from the rest of the players is his hunger to win and his never say die attitude along with the behind-the-baseline game founded on heavy topspin ground strokes, consistency and speedy footwork.
Currently ranked No 2 Nadal will be itching to get back the No 1 ranking and the kind of form he is in at the moment it is just a matter of time before he gets to that. Nadal and Mats Wilander are the only players in history who have won at least two Grand Slam titles on three different surfaces—hard court, grass, and clay.