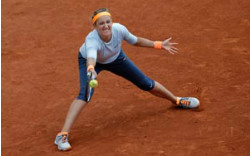 Paris: Stefanie Voegele has made it to the second round of French Open after defeating Heather Watson by 6-4, 2-6 and 6-4 here on Wednesday. Watson's exit also brought end of the British hopes of claiming the French Open this year, both in men's and women's category.

Voegele made the most of the mistakes made by Watson and went to win the three straight games which gave her an edge in this stiff match. Watson did well to break back but finally gave away the opening set in 38 minute.

Watson made the strong comeback in the second set and went on to win it 6-2 by winning four-game at trot. With the contest going head to head, British made an unforgettable mistake of dropping a serve in the final set which pushed her back against the wall.

Meanwhile, the Victoria Azarenka reached the second round of French Open as she registered a comfortable win by 6-1, 6-4 over Elena Vesnina. She will now battle it out against Annika Beck, the 2012 junior champion, for a place in the third round.
Azarenka made the best use of the breaks in the second and sixth games of the first set and went on this one-sided affair. This win ensured the 100% win record of Azarenka as it was her fifth win in five matches against the Russian.

Vesnina did exceedingly well in the second set when she came from behind to level the set at 3-3 after lagging by 1-2. But Azarenka bounced back remarkably and sealed fate of the match after 1hour and 18 minutes.

After winning this knock-out game, she was quoted saying, "It was a good win as Elena is a really tough opponent. I will be back tomorrow to play again but I want to be able to slide better on the clay, especially on the left foot as well as the right. That's my goal this year."