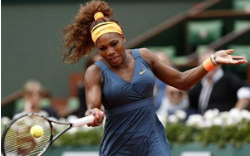 Paris: Serena Williams raced into the third round of the French Open on Wednesday, needing just 62 minutes to swat aside French wildcard Caroline Garcia on Chatrier court, 61 62.

The No.1-seeded Williams was on her game from the get-go, serving strong - she never faced a break point - and playing cleanly and aggressively from every other wing as well. At the end of the day she compiled the kind of winners-to-unforced errors differential that wins Grand Slams - 27 to 9, or +18.

"I think she played really well. I think I played well," Williams said. "I came out strong because I knew I had to. I knew she was a tough player so I did what I had to do to make it to the next level here.

"I was really focused the whole time. I wanted to be serious and just get this win under my belt."

Williams has now won 26 matches in a row, tying her for the third-longest winning streak of the new millennium, alongside Victoria Azarenka's 26-match winning streak in early 2012. Venus Williams has the longest, 35 in 2000, while Justine Henin has the second-longest, 32 across 2007 and 2008.