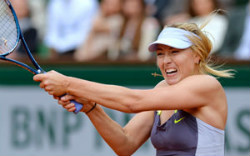 Defending champion Maria Sharapova rarely loses to up-and-coming players and 20-year-old Sloane Stephens was no different. The Russian played a very efficient contest in dispatching the American 6-4, 6-3 to reach the quarter-finals once again.

It was by no means a perfect match for Sharapova on Philippe Chatrier Court, but just like in 2012 when she pushed past Klara Zakopalova in the fourth round, Sharapova knew it would be a dicey contest on a windy day so did not allow herself to become mentally rattled.

Stephens is a faster player and very adept at defence, but Sharapova strikes a clean ball and was more than happy to match forehands with the US No.17 seed, who considers that her biggest weapon. Stephens attempted to get Sharapova on the run and at times was able to exploit the Russian's lack of speed, but the defending champion kept her ground strokes deep and returned aggressively, breaking Stephens four times.

While Sharapova has had trouble holding her service against other super-elite players such as Serena Williams and Victoria Azarenka, over the past year-and-a-half she has been very competent against players outside the top 5. Stephens only managed three break points again her and managed to break her just once. The 20-year-old Floridian gave a much better showing today than in Rome two weeks ago, when she only managed to take three games off Sharapova, but the Russian was ready and waiting for a big push.

"I'm sure she was geared up," Sharapova said. "Especially when you lose a couple of weeks ago, you want a bit of revenge. I'm sure she had that type of feeling going into our match. And also it's Roland Garros, and the conditions are tricky as well, so that played a part in it. Patience was really important. We had a few freaky points, a few shanks. But overall I was happy with the way I focused most of the match."

Sharapova finished the contest with 17 winners, forced Stephens into 20 errors and committed 25 unforced errors herself, a plus-12 differential.

The 26-year-old has only lost two matches on clay during the past two seasons, both to Serena in Madrid. She will play Jelena Jankovic, her old foe from her junior academy days, in the quarter-finals on Wednesday.


Meanwhile, after a long wait, Jelena Jankovic finally got on court for her Round of 16 match with Jamie Hampton. And after another long wait - this one lasting three years - Jankovic made it into the quarter-finals of a Grand Slam again, defeating the American 6-0, 6-2.

Jankovic has been making a habit of late of beating high-ranked opposition while coming unstuck against those outside the top 50. A win against Sam Stosur in Stuttgart was followed up by a loss at the hands of Chanelle Scheepers in Madrid, while in Rome she defeated Na Li in the second round only to lose to Simona Halep in the third.

Fortunately for her this changed on Monday night, when the two ladies finally got on court at 8pm after the mammoth Wawrinka-Gasquet match. The Serb No.2 held and then came back from 0-30 to break, setting the tone for the encounter. Hampton, who made the semi-finals in Brussels last month to equal her best ever performance to date, seemed overmatched. She tried to paint the lines but her radar was off, and Jankovic pummelled her elegant one-handed backhand into submission.

The first set was done and dusted 6-0 in 25 minutes, and though Hampton broke to get on the board to open the second, she ceded her own service straight away and the second followed suit, 6-2. The match was finished in a hair's breadth over an hour.

Jankovic is thus in her fourth quarter-final at Roland Garros. And on each of the past three occasions, she won – against Nicole Vaidisova in 2007, Carla Suarez Navarro in 2008 and Yaroslava Shvedova in 2010. If she is to make it four in a row however, she will have to get past no less an opponent than defending champion Maria Sharapova on Wednesday.

Courtesy :French Open: Sharapova and Jankovic will go head to head in quarters