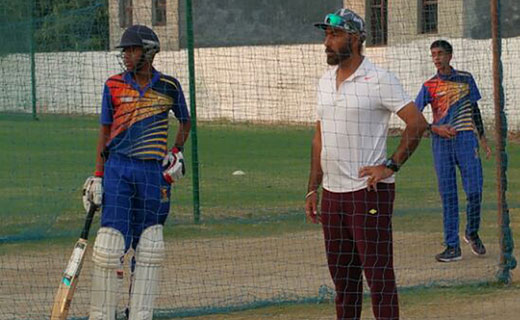 Mohali: Had it not been for the nasty knee injury that jeopardised his career, we could have heard the name of another Punjab player representing the country in the 1980s and 90s. Sukhvinder Tinku was an emerging talent who had represented India in the Under-19 World Cup in 1987-88 and was inducted into the India A team in 1991 when fate betrayed his promising career with a devastating knee injury that cut short his dreams of playing for the nation.
However, after remaining in depression for a couple of years, he found solace in the cricket again—but this time it was in coaching the youngsters the nuances of the game. Soon he was given the charge of training the kids at PCA academy and a budding cricketer transformed into a coach.
After serving the PCA, Tinku delve into an endeavour of starting his own coaching institute and formed the Tinku Cricket Academy at Sarvhitkari Senior Secondary School in Sector 71, Mohali. Starting from zero, the academy boosts of over 60 trainees at present, who are being imparted the basics of the game on the transformed facilities that boosts of bowling machines, fantastic net facilities and other nuances of modern day coaching.
"From my childhood I was more inclined towards games. I liked cricket and started playing in Mohalla cricket. As luck would have it, there was one-week camp in Mohali. My friend said that we will get something to eat there and therefore I attended that camp. The coach in that camp saw me bowling at the net and was impressed with me. He encouraged my talent and asked me to join the academy, which I joined and my tryst with proper cricket began from there," said Sukhvinder Tinku, adding that there he felt the need to work on his fitness and work ethics.
"Like other cricketers, I also started nurturing the dreams of playing for the country. I started working hard and started working on my techniques. I was selected for the Under-15 North Zone team in 1983-84. My work ethics were good and I started getting results. I played the Under-19 World Cup in 1987-88 in New Zealand and Australia. We had the likes of Narendra Hirwani, Venkatpathy Raju and Nayan Mongia in the team. Other teams had players like Brian Lara 9West Indies), Chris Cairns (New Zealand), Aaqib Javed (Pakistan). Senthil was our skipper," reminisced Tinku, adding that he received praises as a fast bowler.
"I was among the 12 players shortlisted for the MRF Pace Academy. In the acdemy we had players like Javagal Srinath, Vivek Razdan, WV Raman who later went on to play for the country. I was there for three years and was No. 1 trainee for two years. I was sent to Australia for training and came back in 1991.
Thereafter, I was shortlisted for India-A team, but to my bad luck, I suffered a nasty knee injury that jeopardized my career," said Tinku with lump in his throat.
"I went into depression for almost two years. I suffered from so many injuries, including shoulders, groin but had recovered from all that. But I could not recover from the knee injury. I stopped going to the ground. One day my friend asked me to come to the ground. I went there and though I could not play, I helped a few bowlers with the technique part. I felt good and from then onwards, I started going there and started helping the youngsters. Thereafter, I felt that I can teach these youngsters and give back to the game," said Tinku, adding that after three years of dedicated coaching, he received a call from the Punjab Cricket Association (PCA) to run their academy.
"This was in 1997. I took that opportunity. I was there for nearly 17 years. I loved coaching the youngsters and I worked there without taking any leave. I even failed to attend the marriages and funerals of my relatives, seeking their ire," said Tinku, informing that his notable trainees included Manpreet Goni, Jaskaran Singh, Gurpreet Singh, Soman Gill and Sukhbir Singh, among others.
"I used to work in the Electricity Department. But I left as I felt it was affecting my coaching," said Tinku.