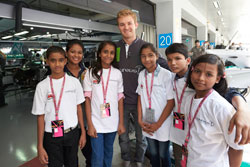 Delhi: Young people from the Laureus-supported Magic Bus project in India have enjoyed a day they will never forget with Formula One star Nico Rosberg at the Indian Grand Prix.

The highlight of the visit came when Laureus Ambassador Rosberg, who drives for the MERCEDES AMG PETRONAS Formula One™ team and won the Monaco and British Grands Prix this year, personally welcomed the 20 youngsters in their bus as they headed for the Buddh International Circuit.

Nico, who has won three Grands Prix since he joined Formula One in 2006, said: "Sport is so effective in inspiring young people and giving them hope for the future. Nowhere is this more true than in India where so many children have to struggle from the day they are born.

"The work Laureus does around the world to support projects like Magic Bus is wonderful and I was pleased I was able to meet the guys and talk to them. I took the chance to show them around on my working desk in the team's garage. I think they were amazed by the whole day and I hope they will be inspired by the visit and become role models for the other young people at Magic Bus. I certainly found it moving listening to some of their stories about what life has been like for them and how they have been given support and direction by the project and now have much more hope for their future."

Nico led a question and answer session with the young people, and also donated footballs which were loaded into the bus for the youngsters to take back to the project.

Since its inception Magic Bus, which originated in Mumbai, has reached out to 250,000 children. Through activity-based learning issues such as gender equality, health and hygiene, the programme aims to build a poverty-free future for children. The project works with children and their communities for up to ten years on a journey from childhood to livelihood. Their work helps to ensure that they create a new generation of economically independent citizens who are fully equipped to participate in, contribute to and, even, shape tomorrow's India.

Nico Rosberg is a Laureus Ambassador, a select group of current and retired sportsmen and sportswomen, who, along with the members of the Laureus World Sports Academy, support the work of the Laureus Sport for Good Foundation.