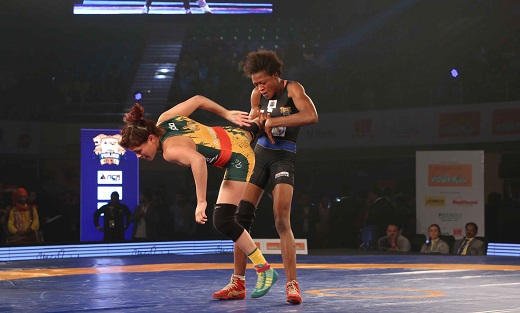 New Delhi: Jaipur Ninjas, making their debut in the Patanjali Powervita Pro Wrestling League Season 2, began on a bright note as they defeated NCR Punjab Royals 5-2 in the second tie of the action-packed extravaganza at the K D Jadhav Indoor Stadium here today. Bollywood star Sunny Deol, who was rooting for the Punjab team, added to the excitement of the evening.
Jaipur Ninjas, who won the toss, decided to block the 65 kg Men's category. Punjab, led by 2016 Olympics Gold medalist Vladimir Khinchegashvili, won the toss and blocked the 48 kg Women's category.
The first bout was contested between Jitendra from Punjab and Georgian Jakob Makarashvili from Jaipur in the 74 kg Men's category. Jitendra began positively, scoring points early on before Makarashvili staged a comeback, banking on his experience and power to outdo Jitendra. Jaipur won the first bout 12-4.
19-year-old Manju Kumari was the next grappler from Punjab, taking on Pooja Dhanda from Jaipur. Initially, both wrestlers were unable to score points even as Pooja gave away one point to Manju due to passivity. In the second round, Pooja came back with more purpose, scoring four points to win the 58 kg Women's bout and give Jaipur a 2-0 lead in the tie.
The surprise package of the evening saw a duel between Jaipur's Utkarsh Kale and Punjab captain Vladimir Khinchegashvili in the 57 kg Men's category. Utkarsh began aggressively, scoring points early on and making life difficult for his much-experienced opponent. Even as Vladimir bounced back and got the lead, Utkarsh showed no signs of nerves as he kept applying pressure on the Georgian, but went down fighting in the end. The third bout was ultimately won by Punjab with an 8-5 margin.
Also read: Haryana Hammers dominate Mumbai Maharathi to win opening tie of PWL Season 2
Jaipur, however, continued to extend their lead in the match, with 2016 Olympics Bronze medalist Jenny Fransson beating Punjab's Vasilisa Marzaliuk in a closely fought encounter. The Swedish grappler eventually overcame a stiff challenge from Vasilisa, as Jaipur soared past Punjab 3-1. After her bout Fransson said, "I have previously also wrestled in 72 kg category so it wasn't much of a worry but yeah I can always feel they are strong."
The fifth bout was contested in the 70 kg Men's category and featured wrestlers Vinod Kumar Omprakash from Jaipur and Pankaj Rana from Punjab. Although Pankaj appeared to be dominating in the first round, Vinod came back strongly in the next three minutes to win the bout 5-3 to help his team take an unassailable 4-1 lead in the tie.
The highlight of the evening was the sixth bout fought between Jaipur's Betzabeth Arguello and Punjab's Odunayo Adekuoroye. Nigeria-born Odunayo, one of the popular wrestlers from Season 1, dominated the contest and prevailed over Betzabeth in 3 minutes 52 seconds with a 16-0 scoreline, winning by Technical Superiority. Odunayo continued her custom of dancing and singing on the mat after scoring a barrage of points.
The final bout of the tie was a heavyweight contest in the 97 kg Men's category between Jaipur captain Elizbar Odikadze and Punjab's Krishan Kumar. Jaipur's prized catch Elizbar kept scoring against Krishan and ended winning the bout 12-0. Jaipur registered their first victory of the season by defeating Punjab 5-2.
Speaking after the tie, Mahavir Singh, Coach of Jaipur Ninjas, was all praise for Utkarsh Kale. "I believe he gave a tough fight. But I am happy with how Utkarsh performed. He is young and his speed is good, this will help us in matches further", he said.
Wrestler Pooja Dhanda remarked: "I was a bit nervous as I was making a comeback after a long gap but believe our Coach's strategy is what we followed. He asked us to be relaxed in the first round and fight with full power in the second round."
Ritu Phogat, the most expensive female wrestler in PWL Season 2, did not get to feature in the tie after being blocked by Punjab. "I feel a lot of people came to see my match. They wanted to see match of another Phogat sister but I hope and wish they come back on 6th and support me."