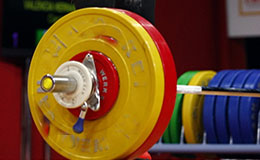 Guwahati: Sushila Panwar of India secured another gold medal for Indian team in the last day of weightlifting competition at Bhogeshwari Phukanani Indoor Stadium, Guwahati today at the 12th South Asian Games.
Sushila Panwar lifted a total weight of 198 kg in +75 kg women body weight category.
She was followed by Ishani Annushka Kaluthanthri of Sri Lanka (Silver medal) with a total lift of 173 kg and Tara Devi Pun of Nepal (Bronze medal) with a total lift of 165 kg.
Medal tally in women section rose to 6 gold medals and 6 gold medals in men section in weightlifting.
In Men's 105+ kg category, Pakistani weightlifter lifted Gold medal. Md Nooh Dastgir Butt defeated Indian weightlifter Gurdeep Singh and captured Gold. Gurdeep Singh bagged the Silver medal and Sri Lankan Saman Abeywickrama Avimedille Gedara won the Bronze medal in the 12th SAG today.
Out of the 15 events in the weightlifting competition, Indians weightlifters won gold in 13 and a silver in an enormous display of domination.