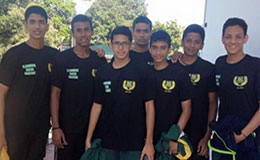 Bengaluru: Seven swimmers supported by the JSW Sports Excellence Program (SEP) left for Durban, South Africa to resume their training program, after a short break for Christmas, under the South African national swimming team's coach Graham Hill. The swimmers - Siva S, Danush S, Likith SP, Manav D, Karan KR, Aryan Makhija and Vedant Khandeparkar, are on a one-year scholarship program fully sponsored by the JSW SEP.
While Siva, Manav, Karan and Likith are Bengaluru-natives, Danush hails from Chennai while Aryan and Vedant are based out of Mumbai. The swimmers study at Durban's reputed Glenwood Boys High School and train at the Seagulls Swimming Club in the South African city.

Graham Hill, Olympic gold medalist Chad Le Clos' personal coach, is responsible for the boys' training. The seven swimmers train alongside Le Clos and a host of other South African national team swimmers. Dr. Kevin Subban, the medical officer of the South African swimming team, is also a part of the program offering fitness guidance and medical attention to the swimmers on a regular basis.

The seven swimmers are now slated to participate in the South African National Swimming Championships in March in Port Elizabeth. They will also feature in the FINA-recognised Olympic Qualifiers in April before returning to India in August for the Senior National Swimming Championships.

Coach Graham Hill said that the swimmers had shown steady progress and responded in encouraging fashion to his training methods. "I have a very happy, eager and talented bunch from India under me here in Durban. Everyone is willing to push themselves over that extra yard to achieve goals that have been set for them. Their timings, speed and overall technique has improved substantially over the last six months," he said.

Hill added that over the next four months, the swimmers' focus would be on getting as many competitions under their belt in order to prepare them mentally as well as get a constant update on their progress.

Mustafa Ghouse, CEO JSW Sports, said that with the swimmers acclimatized to South African conditions and training routines, the focus now would be on bettering timings and improving results. "According to the reports that Graham has sent in, all our boys have shown speedy progress as evidenced by their reduced timings. The focus now is on sharpening their competitive edge, testing themselves against better quality opposition and working on their mental strength in order to put up a strong challenge in India and abroad," he said.

During their time in South Africa, the JSW SEP-supported swimmers won a host of laurels. Likith SP travelled to Italy in June 2015 to participate in two open invitational swimming tournaments in Pesaro and Treviso, winning three bronze medals and a gold over the two events. In September 2015, Likith was also chosen to represent India at the FINA World Junior Swimming Championship in Singapore. The other six swimmers have also put in impressive performances at swimming galas and invitational meets in South Africa.