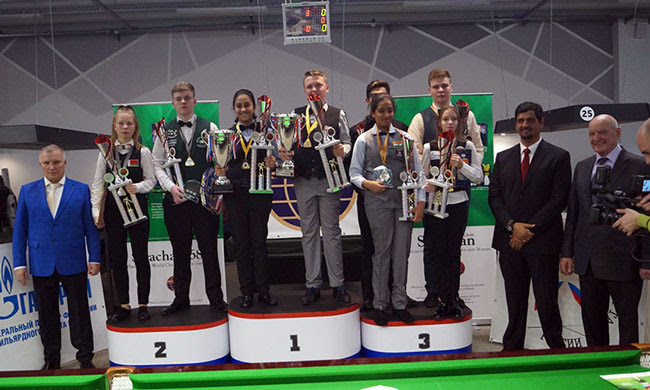 Ben Martens and Keerthana Pandian of India has won the World Under-16 Snooker Championships for Men and Women.
In the men's category, Ben Martens of Belgium topped his Group J without dropping a single frame and qualified for knockout stage as 5th seed to start with the Last-32 stage. Even in knockouts, he sailed smoothly till quarterfinals and before stepping in finals, he faced bit resistance from Kirill Margolin of Belarus. He was down 1-2 at one stage, but Ben shown his mettle and posted two clearance breaks of 75 and 94 back to back and won the match 4-2.
Final was tough and the tournament favorite Aaron Hill from Ireland had taken all control to lead 3-1. Even in that situation, Ben was determined and he held his nerve much better in the fourth frame to make a strong comeback followed by two match winning breaks of 74 and 53 in next two frames and defeated Aaron 4-3.
In women's category, Indian girl Keerthana Pandian won her maiden international title. In the final, she defeated the player from Belarus Albina Leschuk 3-1.
After qualifying for knockout stage as seed 4, Keerthana knocked out her compatriot Manasvini Sekar and Russian girl Alina Khairulina in straight set of frames 3-0 before meeting the defending champion and her compatriot Anupama Ramachandran in semi-finals.
Keerthana had lost the first frame but after that, she played flawlessly to win the next three frames and defeated her 3-1.
Similarly, in the final, Keerthana went down after winning the first frame but on the score of 1-1, she geared up and played with full control to win the next two frames and the championship.