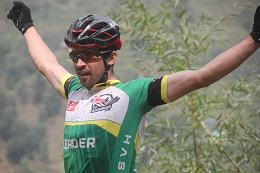 Shimla: After a rest day at Gada Gushaini, the riders at 12th Hero MTB Himalaya were all set for another day on the saddle. 78 km stretch from Gada gushaini to Bagshed featured an elevation of 2,100m and a maximum elevation of 2,720m.
Stage 4, Day 5- Mystical Land features many scenic views along the tributaries of Beas rivers. The section had 3 steep uphill climbs along with 3 very fast downhills which served to be quite challenging for most riders.
The race has travelled a distance of 233kms and a cumulative maximum elevations of 10,200m until now.
Andi Seewald won the 4th stage with a lead of 12 minutes and 15 seconds, over Cory Wallace at the finish of Stage 4 today.
With this consistent stage hattrick win, Andi has climbed to the top of overall category and is now leading by 2 minutes and 15 seconds.
After a crude performance in stage 1, Andi has taken the competition up a notch and is consistent performance winning the last 3 stages in a row.
Ilda Periera who finished second in women solo category after category leader Catherine Williamson had a small crash on single track section before the finish.
Rocky Mountain team's Manuel Weissenbacher had a flat tyre at 167 minute into the race. The duo finished in a time of 4:26:15, maintaining their lead in team of two category.
Devender Thakur from Hero Action Team finished on 7th spot making him best Indian rider in terms of stage rankings at this year's race. He finished the 78km section in a time of 4:21:04. Shiven from Hero Action Team was second best Indian rider with a time of 4:32:25.
Top 5 Riders: (Overall)
1) Andi Seewald: 3:28:29
2) Cory Wallace: 3:40:44
3) Jason English: 3:45: 11
4) Thomas Turner: 3:50:48
5) Holger Schaarshmidt : 4:01:30
Top 3 Indian Riders:
1) Devender Thankur 4:21:04
2) Shiven 4:32:25
3) Rakesh Rana 4:41:59
Top 3 Open Men Solo
1) Andi Seewald: 3:28:29
2) Cory Wallace: 3:40:44
3) Jason English: 3:45: 11
Top 3 Open Women Solo
1) Catherine Williamson: 4:22:40
2) Ilda Periera: 4:44:50
3) Naima Madlen: 5:13:50
Open Masters Solo:
Johan Labuschagne: 4:20:58
Open Grand Masters Solo:
John Jack Funk: 6:28:33
Top 3 Team of Two:
Manuel Weissenbacher & Andreas Hartmann: 03:26:15
Frank Eggert & Monika Eggert: 05:06:12
Lokesh Narashimachar & Naveen Srinivas: 05:17:01