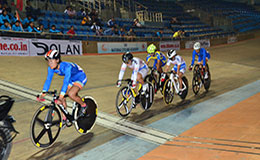 New Delhi: Indian Cycling team finished their campaign by winning 11 medals including 3 gold, 3 silver and 5 bronze medals in the Track Asia Cup held at IGI Sports Complex here and ranked third in Overall medal tally. Korea finished at the top with 6 gold, 3 silver and 3 bronze while Uzbekistan secured second place with 3 gold and 4 silver medals.
On the final day, India won 2 gold and 3 bronze medals.
India's young cycling sensation Deborah Herold made a fine start on the final day of the Track Asia Cup by winning the gold medal in the women elite sprint clocking 13.614 seconds to beat Korea's Cho Sun Young (13.704).
Deborah also missed one medal opportunity as she fell down in her favourite Keiren event. On the final lap, she couldn't maintain her balance and fell down on the track and after coming in contact of Deborah, Thailand's Pannaray Rasee also lost her balance and collided. Deborah eventually settled for 1 Gold and 2 silver medals (including one from team event) in Track Asia Cup.
Deborah said, "I am bit upset that I missed medal in one of my favourite event Keirin-WE as I fell down, I could have won one more Gold for India and I was leading but unfortunately I fell down and couldn't win the medal for India. Anyways you improve with every tournament and I am following it. The overall performance of our teams is better. This event is a good preparation for us looking ahead two major events World Cup in Hongkong followed by Asian Championship in Japan early next year. Before this we will also have our training camp in Switzerland from first week of December".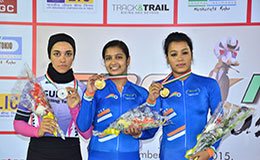 In the Junior Women Sprint finals, India's Nayana Rajesh bagged gold medal in 13.510 seconds while Anu Chutia clinched bronze in 13.822 seconds. The silver went to Fatemeh Hadavand of Iran in 13.623 seconds. Nayana led from the start and won in a very fine manner. She was very calm during the event and pedaled the cycle like she is swimming in the pool.
Nayana said after the event that her coach R.K. Sharma told us to be calm and soft during the event and he also gave some technical tips which they followed well and due to this she won the gold and Anu won the bronze.
In the Men Junior section Emerson bagged bronze medal in the Sprint finals with a timing of 12.347 seconds. The gold of this event gone to Thanawat Uraikit of Thailand and Saiid Suwaidan of UAE won the Silver.
The men's junior team, consisting of Ranjith Singh, Sahil Kumar, Om Thalor Prakash and Sanju Udayan Abhjith won bronze in the team pursuit 4 km event, waving off tough competition with a timing of 4:46.643s. Gold of this event was won by Uzbekistan (4:39.630s) and silver was bagged by UAE with a timing of 4:42.679s.
The main attraction of today was the point race of 30Km where 16 riders took part together and they have to complete the 120 rounds of the track. However, Indian couldn't win the medal in this race and Arvind Panwar could secure 11th place. Nikita Panassenko of Track Team Astana won the gold with 105 points while Timur Gumerov collected 73 points and secured the 2nd place. The third place went to Wan Yau Vincent of Hong Kong with a total of 52 points.