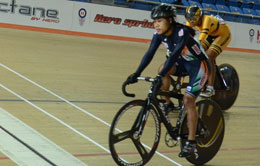 New Delhi: On what turned out to be a profitable day for Deborah, India grabbed two more gold on the concluding day of the Track Asia Cup 2014 at the IG Stadium Complex Velodrome here today.

Debroah won gold in the women's elite keirin and sprint finals for an overall individual tally of four gold medals from the championships to shore up her chances for the major events like the world championships in France in March 2015. But that may be a little too early, yet it was her performance that showcased the performance of Indian cyclists.

India also grabbed four silvers, including the two they won today, and added three more bronze medals to their tally to finish with a total of 18 medals (5 gold, 4 silver and 9 bronze). Hong Kong, however, topped medal chart from the event, having been able to dominate the endurance events.

Deborah began the evening session by sprinting to gold way ahead of compatriot Kezia, who took 0.060 and 0.518 seconds more than the girl from the Andaman and Nicobar Island in the three-lap event. For Kazakh Tatyana, who fought for the bronze with Bangladeshi Farhana Sultana, it was a cakewalk.

Even as our elite men struggled in keirin finals, Debrora once again set the stage ablaze with a fantastic display in the eight-lap event which she overtook Tatyana rather easily for the gold. The second finisher Kazakh had taken 0.010 seconds more than the Indian and the bronze went to Indian Sonia Devi who finished the race 1.332 seconds more than the gold winner.

The men's keirin gold went to Kazakh Pavel Vorzhev while Thailand's Worayut and Satjakul finished behind the winner, taking fractions of seconds more. Amrjeet Singha and Gurpal Singh finished way behind at No. six and eight.

In men's sprint, after the following the Pavel Vorzhev show, Indian Amarjeet Singh finished with the silver taking an extra 0.582 seconds while Pongthep Tapimay of Thailand had to be satisfied with the bronze. Another silver medal came India's way when Prabhsiman Singh came second after Thailand's Chakhree Khruthangkha in the three-lap men's junior sprint finals. Hong Kong's Maximillan Gil bagged the bronze. Raj VP Sona won women's junior sprint bronze after she was pushed down the order by gold winner Sarinthip of Thailand and Hong Kong's Wing Yee Leung.



THE RESULTS (ALL FINALS):

Men Elite (Sprint 3 laps): Pavel Vorzhev (KAZ), Amarjeet Singh Nagi (IND), Pongthep Tapimay (THA).
Men Elite (Team Pursuit 4km): Hong Kong (Siu Wa, Burr Ho, Ching Yin Mow, Ka Yu Leung) 4:18,800, Kazakhstan (Roman Vassilenkov, Pazylbek Zaksylyk, Magomed Mamedov, Pavel Gatsky) 4:22.940, India (Amrit Singh, AManjit Singh, Anil Kumar, Arvind Panwar) 3:22.312.
Men Elite (Keirin): Pavel Vorzhev (KAZ), Worayut Kapunya (THA), Satjakul Sianglam) THA).
Men Juniors (Sprint 3 laps): Chakhree Khruthangkha (THA), Prabhsimran Singh (IND), Maximillian Gil (HKG).
Women Elite (Sprint 3 laps):Debroah IND), Kezia Varghese (IND) Tatyana Zadnepryanova (KAZ)
Women Elite (Keirin-8laps): Deborah (IND), Tatyana Zadnepryanova (KAZ), Sonia Devi (IND)
Women Juniors (Sprint 3 laps)): Sarinthip Diow-Archakun (THA), Wing Yee Leung (THA), Raj V.P. Sona (IND).