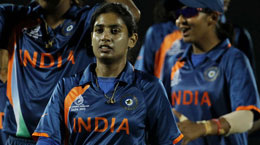 On the International Women's Day today, we give you the five reasons why women's cricket is not so popular in India.
Lack of publicity
In India, media is so focused in portraying the likes of Virat Kohli, Suresh Raina and MS Dhoni that it forgets the likes of Mithali Raj and Jhulan Goswami. The female faces despite their performances go unnoticed and their works go unaccomplished. In absence of proper coverage, they even fail to create their followers. As we celebrate International Women's Day today, advertising agencies, newspapers, radio and even viewers must start giving proper publicity to the women players, which would go a long way in encouraging them to achieve greater heights.
Lack of support and opportunity

In school and college levels girls never get good opportunity to reveal their talent. They do not get much chance to show their skill in cricket ground. Inter-school cricket matches for girls are still in its nascent stage. Also women do not receive the support of men in cricket which they bestow to their men counterparts in blue jersey. The BCCI must spread awareness among budding women cricketers and encourage them.
Lack of tournament
As women have started performing well, more and more tournaments should be held at the international level as well as state and district level so that more talents could surface and find their way. If something like IPL is introduced for women, it will give a fillip to women cricket. More the platforms, the better it is for the game.
Lack of training environment, coach and sponsor
Lack of corporate sponsorship and lack of proper coaching facilities are major problems in women cricket. Besides they hardly have proper training environment like the men countyerpart. Men's cricket attracts more coaches and sponsors than the women's cricket.
Age old opinions and perceptions

From the very inception of the game, society has hardly accepted girls on the cricket field. We have seen Saina Nehwal and Sania Mirza in the front pages but not a girl with a bat and pad in blue jersey. 'Cricket is a game of men'. It's high time women cricketers get their due as if given the chance and facilities, they too can become stars.