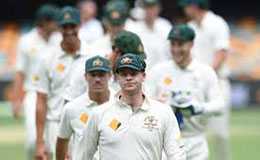 Dubai: Australia has regained the prestigious ICC Test Mace and has also won a cash award of $1million after winning the Christchurch Test by seven wickets, which has given it a 2-0 series win against New Zealand.
The result means Australia has finished two points ahead of India on 112 points in the final series before the 1 April cut-off date. Steve Smith will receive the Mace and the cash award on behalf of his team in a ceremony to be held at a later date.

This is the eighth time Australia has finished as the number-one ranked Test side at the annual cut-off date since the inception of the current rankings system in 2003. It had earlier topped the table each year from 2003 to 2009, before India claimed number-one spots in 2010 and 2011. England ended as the number-one ranked side in 2012 before South Africa completed a hat-trick by retaining the top spot from 2013 to 2015.

India, by virtue of finishing second, will collect $500K, while South Africa will pocket $200K and Pakistan $100K after claiming third and fourth positions, respectively.

It is a double delight for Smith's men who had earlier topped the MRF Tyres ICC ODI Team Rankings at the annual cut-off date. It had finished comfortably ahead of second-placed New Zealand, followed by India, South Africa, Sri Lanka and England.
ICC Test Rankings(as of 24 February, after the conclusion of New Zealand-Australia series)
RANK TEAM POINTS
1 Australia 112
2 India 110
3 South Africa 109
4 Pakistan 106
5 England 102
6 New Zealand 96
7 Sri Lanka 89
8 West Indies 76
9 Bangladesh 47
10 Zimbabwe 05
MRF Tyres ICC ODI Rankings(as of 24 February)
RANK TEAM POINTS
1 Australia 126
2 New Zealand 114
3 India 113
4 South Africa 112
5 Sri Lanka 104
6 England 101
7 Bangladesh 97
8 Pakistan 87
9 West Indies 86
10 Afghanistan 47
11 Ireland 46
12 Zimbabwe 45