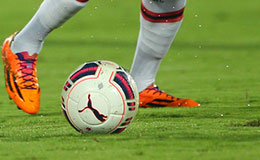 New Delhi: The legacy project of the FIFA Under-17 football World Cup, Mission XI Million, reached the landmark of reaching out to 2000 schools across India on Saturday.
An All India Football Federation (AIFF) and the Indian government initiative, the pioneering programme reached the milestone at Government Secondary School in Chimpu -- which is a city situated in the far east corner of the country in the state of Arunachal Pradesh, according to a release.
Tournament Director of the FIFA U-17 World Cup, Javier Ceppi remarked, "This is a very important landmark. Mission XI Million is what will truly change the future of Indian football and the way the sport is perceived by kids all around the country.
"Imagine that football has now become the sport of choice of 2000 schools in 14 states, so the potential is enormous. We are changing the landscape of football and sport in India."
Taje Mara, a physical education teacher at the school, expressed his delight at his school being the school to reach this milestone and said, "I am elated with our school's involvement in Mission XI Million. The children have shown a lot of enthusiasm playing football and seeing them enjoy on the field with a ball at their feet makes me very happy."
Mission XI Million aims to take the game of football to at least 11 million boys and girls in all 29 states and the UT of Delhi before the FIFA U-17 World Cup begins in October later this year.