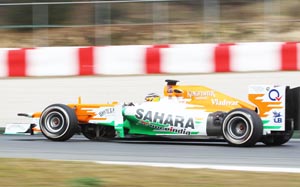 Baku: Sahara Force India and Sergio Perez picked a second podium finish of the season on Sunday after a strong performance at the European Grand Prix in Baku. Nico Hulkenberg battled to ninth place to ensure a double points finish for the team.
Speaking about the race, Sergio said: "I knew that the podium was possible today, but we really had to work hard for it. The key to my race was the great start I made to get around a Williams [Massa] and a Toro Rosso [Kvyat]. Then, in the first stint I was suffering with graining of my supsersoft tyres and we had to decide whether to wait for it to improve or to make an early stop. In the end, we stayed out longer, which was the right decision, but when I came out of the pits I struggled to warm-up the soft tyres and I was under big pressure from Lewis [Hamilton] behind."
"I pushed as hard as I could and opened up a gap, and then I focussed on looking after my tyres. I closed in on Kimi [Raikkonen] and I knew he had a penalty, but on the final lap I got very close to him and saw the opportunity to overtake him, so I took it. To be on the podium for a second time this year feels fantastic. The team has done a brilliant job and we are having an amazing year," said Perez.
Meanwhile, Nico Hülkenberg, who finished ninth said: "It was a fairly tough race for me. The start was ok, but coming into turn one someone [Gutierrez] hit me from behind. I lost a couple of positions trying to control the car and that put me a bit on the back foot. Getting through traffic in the opening stages was not very easy and it cost me a lot of time. Then, for the early part of the race, I was struggling with oversteer and in general I couldn't find the same harmony with the car that I had in practice. Making the supersoft tyres last as long as I did - 31 laps - was not easy and by the end of the race I had very little left, but it was a risk I was happy to take to make our strategy work. The car had great potential all weekend long, but I feel I paid for the mistake I made yesterday in qualifying. However, I am pleased for the team's result: it means we bring home a bunch of points which is a boost for our season."