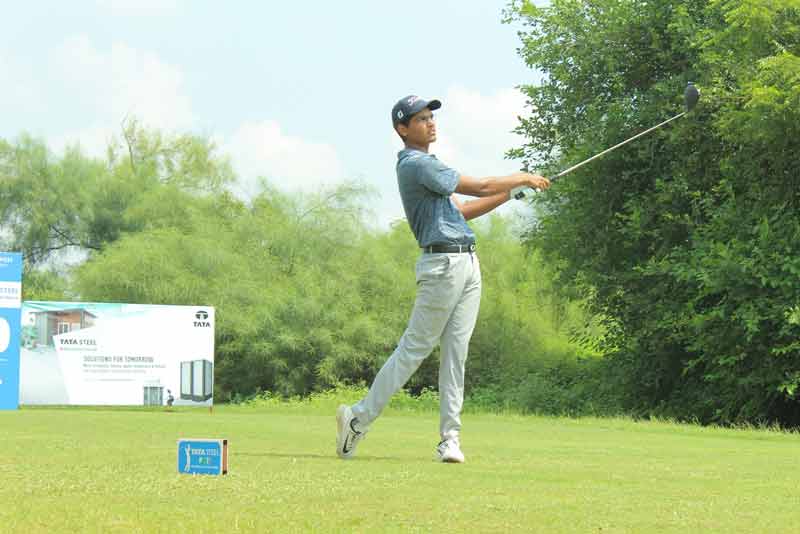 Gurugram: Nineteen-year-old rookie Karan Pratap Singh clinched his maiden professional title in spectacular fashion as he sank an eagle on the last hole of the final round at the TATA Steel PGTI Feeder Tour 2019 Presented by Golden Greens Golf Club played in Gurugram.
Gurugram-based Karan Pratap Singh (71-68-68), who plays at the DLF Golf & Country Club, delivered a second consecutive four-under-68 during round three on Thursday to claim a well-deserved two-shot victory at nine-under-207 at the Rs. 8 lakh event.
Interestingly, rookies have now won the last two tournaments on the TATA Steel PGTI Feeder Tour. Last week, another rookie Yuvraj Singh Sandhu had triumphed in Karnal.
Local lad Shivendra Singh Sisodia (71-67-71) finished second at his home course with a total of seven-under-209.
Teenager Karan Pratap Singh, who occupied second position, one shot behind leader Shivendra Singh Sisodia on day two, put up a fine display of driving and iron-play on day three to register a memorable come-from-behind win.
Karan, among India's leading juniors till the age of 15, caught up with leader Sisodia on Thursday when he sank successive birdies on the fifth and sixth. Singh added two more birdies on the ninth and 10th as a result of back-to-back 20-feet conversions to move into a two-shot lead.
However, it was all square once again between Karan and Shivendra as the former's short-game seemed to go off the boil when he bogeyed the 11th and 12th. But there was a last twist when the tall and lanky Karan, who finished tied 16th at the PGTI Q School earlier this year, produced his best shot of the tournament on the 18th, a magnificent approach from 240 yards, to set up the decisive four-foot eagle putt which he went on to convert.
Karan, who had also posted a round of eight-under-62 and a tied seventh finish at the Bengal Open earlier this year, climbed from 25th to fifth place in the TATA Steel PGTI Feeder Tour Order of Merit as a result of his triumph on Thursday. He won a prize purse of Rs. 1,01,720.
Karan said, "I played solid today having made 15 regulations and 10 fairways. I couldn't have asked for a better time to pull out my best shot of the tournament, the approach on the 18th. Even the tee shot on the 18th was a tough one but I struck it well.
"I kept my cool through the day and really held my nerve in the finishing stages. Importantly, I put the disappointment of the two bogeys behind me pretty quickly and instead focused on the next hole.
"To win so early in my professional career is a huge confidence-booster. My driving and iron-play were terrific this week. I've worked a lot on my short-game which is also getting better. I would like to thank my parents Mr. Sandeep Singh and Mrs. Ritu Singh for all their support and encouragement," added Karan, currently a B.A. First Year student at the Delhi University's School of Open Learning.
Shivendra Singh Sisodia, the overnight leader and one of PGTI's two top-60 players competing at the event, dropped to second place in round three after a 71 that was punctuated by two birdies and a bogey. Sisodia had a forgettable back-nine where he made a bogey on the 10th followed by eight pars. He thus struggled to close the gap with Karan in the dying stages.
Greater Noida's Arjun Sharma (70) came third at six-under-210.
Chandigarh's Yuvraj Singh Sandhu, the winner last week in Karnal, and Delhi's Ashok Kumar finished joint fourth at four-under-212.
Yuvraj Singh Sandhu's tied fourth finish ensured he seized the lead in the Feeder Tour money list having overtaken previous leader Anil Bajrang Mane of Mumbai who secured tied 13th place at Golden Greens at two-over-218. Yuvraj's season earnings now stand at Rs. 1,80,760.
Digvijay Singh, the other top-60 player and local golfer in the field besides Shivendra Singh Sisodia, also took a share of 13th place.