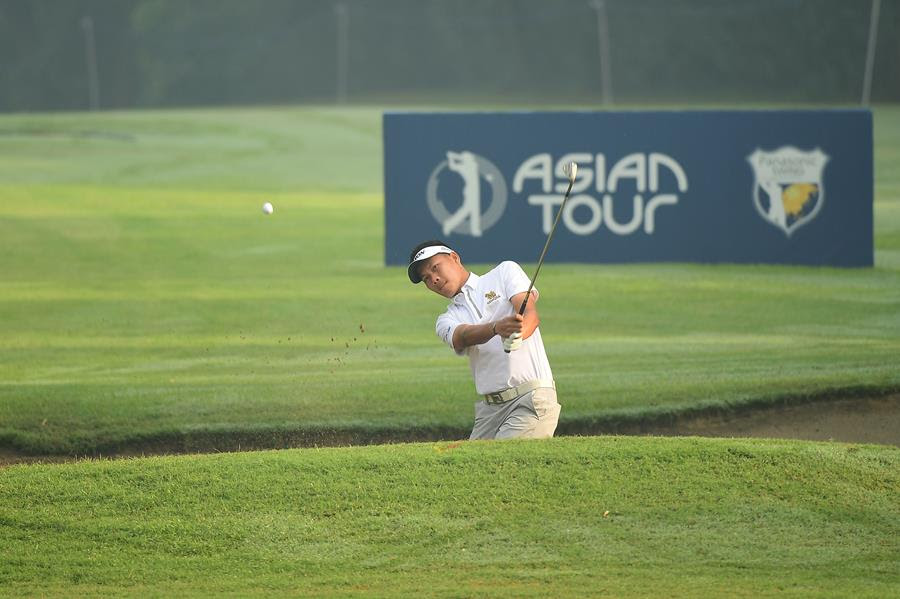 After claiming back-to-back victories in the last two weeks, Thailand's Tirawat Kaewsiribandit will be seeking his hat-trick when he challenges for the US$400,000 Panasonic Open India which starts on Thursday.
Tirawat, who turns 29 today, secured his Asian Tour breakthrough in Pakistan followed by a domestic win in Thailand last week. The birthday boy is confident he can establish himself as a genuine contender at the Delhi Golf Club this week.
Tirawat will spearhead the talented 126-man field alongside compatriot Jazz Janewattananond, Siddikur Rahman of Bangladesh and local hotshot Ajeetesh Sandhu at the Panasonic Open India, which is celebrating its eighth successive edition on the region's premier Tour.
Jazz, a two-time Asian Tour winner, enters the week in fine fettle after taking a two-week break from competitive golf. The 22-year-old Thai had contended for the title before settling for a tied-30th place result when he last played the Panasonic Open India two years ago.
Siddikur, who holds an impressive track record at the par-72, 6935 yards course, hopes to end his title drought when he competes on his favourite hunting ground this week.
Placed 97th on the money list, Siddikur needs a strong showing to boost his rankings and hopefully break into top-60 by the end of the season to keep his Asian Tour card for 2019.
Sandhu, who came in joint runner-up last year, is looking to go one rung better in his chase for a second Asian Tour win at the popular event, which marks the Tour's third stop in India this season.
The Panasonic Open India is sanctioned by the Asian Tour and Professional Golf Tour of India (PGTI) and is the second leg of the 2018/19 Panasonic Swing, which is an aggregate points race that spans five events – in Thailand, India, Indonesia, Malaysia and Japan.
Players' quotes:
Tirawat Kaewsirbandit
I feel very confident with my game right now. I was actually battling a slight back injury last week but I've fully recovered. I am feeling good so hopefully, I can ride on my good form and secure another good result this week.
I am really proud of myself, having won my first Asian Tour win in Pakistan two weeks ago and then winning again on home soil last week. It all came very timely because I turned 29 years old today. It's a great birthday present for myself.
You need a good game plan around this course. It's a very tight course and if you miss the fairways, it will be difficult to make par. I will focus on my tee shots this week. If you hit it good, you can get on the green easily.
This course feels like what we have played in Pakistan two weeks ago. Both are pretty narrow. I surprised myself in Pakistan. I never thought I can do it until I did it. Overall, I think my mental game has improved for this year. I have been working on my fitness as well so I guess that helps.
Jazz Janewattananond (Tha)
The last time I played here was two years ago. I remembered playing very well on the first three days and was playing in the final group with Mukesh Kumar before he went on to win the tournament. I didn't play well on the final day but I know I can play well on this course.
I think only a certain type of players can play well on this course. Like S.S.P. Chawrasia and Mithun Perera who always play well here. I just have to try and play well again. I took a two-week break before coming here so I'm feeling refreshed.
I was practising in Hua Hin with Scott Vincent, who is playing in the WGC-HSBC Champions this week. There are only a few more events to play for the remainder of the season so I am hoping to make the most out of it. I will try and play my best and hopefully end the season on a high.
Siddikur Rahman (Ban)
I have a very consistent record here. I really like this golf course. It's one of my favourite venue on Tour and obviously, my records here show that. I have been coming to play here since I was an amateur. I also won here as an amateur back in 2004.
It's slightly similar to my home course Kurmitola Golf Club, just that my home course has fewer bushes. The greens are not looking so good this year but the fairways and the roughs are in great shape.
The season has been disappointing so far but I am not worried. I am just focusing on what I need to do. I hope to give it my best again this week. This week is important for me. I have been struggling a bit with my back injury. It's been about four to five years now. It comes and goes.
Like in Hong Kong last year, I needed to play well there to keep my card but I had to withdraw from the third round due to my back pain. This kind of things happen. It's just not curing properly and it shows the most when I am playing in cold weather.
But having said that, the weather here is perfect now and I am feeling good with my game. I mostly use a driver on this course, unlike the other players.
Ajeetesh Sandhu (Ind)
It's always a nice feeling to be playing at home. I have played here so many times now so it's almost like a home course not just for me but in fact, for all of us on the Asian Tour. It's nice to be back.
I finished tied for second last year so obviously a lot of good memories out here. It's a tough test every time you come back here so you got to stand up for it and looking forward to this week.
I have played a few events in Japan and in Europe this season. It's a great learning experience for me. A lot of new courses, new conditions and it was fun. I'm looking to end the season on a high coming back to play on the Asian Tour these two months.
The key to playing well here is always to hit it good off the tee. If you can do that, you get the opportunities to go for the pins. You need to be very patient as well. It's always important to stay patient on this course.