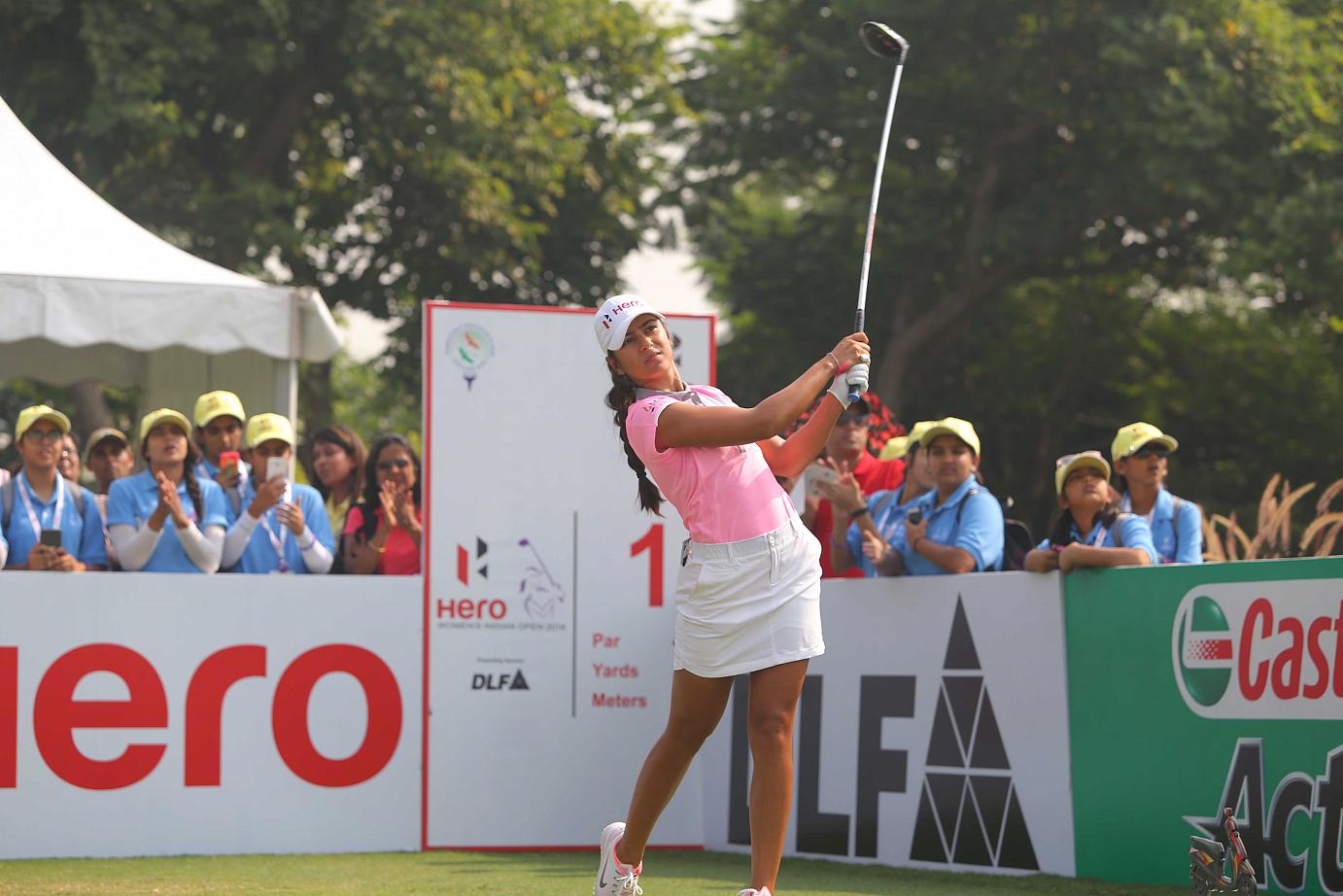 Tvesa Malik, who has been a professional for just over a year and a half but has dominated the domestic circuit, continued to hold her own in the Hero Women's Indian Open. The 22-year-old, who finished her graduation last year, and says is now "free to play as much golf as I want", hung in there for a gritty 1-over 73 with a birdie on the 18th.
That birdie ensured she was within striking distance of a Top-10 or an even better finish, as she was even par 216 for 54 holes and only four short of the three co-leaders, Welsh player Becky Morgan (68), Dane Nicole Broch Larsen (69) and English player, Eleanor Givens (70).
The leaders benefitting from the last hole collapse of the overnight leader, Christine Wolf (77), are sitting at 4-under 212, while three players, Wolf, England's Felicity Johnson (69) and French youngster, Manon Molle (71) are at 3-under in Tied-4th place.
Three players share the Tied-7th place, while 2011 champion Caroline Hedwall (69) is 10th and eight players, including Tvesa Malik (73) are Tied-11th. The group also included France's Isabelle Boineau whose 65 was the week's best card and one short of the course record.
Tvesa is the best Indian though she is no longer under par and in red figures. Tvesa had a satisfying birdie on the 18th, which sent her back happy.
Vani Kapoor and Astha Madan found some form finally as they both carded 2-under 70 to rise to T-31 and another good round on Sunday can see them make further progress.
Tvesa seemed to be doing well at 1-under through 12 holes, which saw her play a steady bogey-free front nine at 1-under 35. She bogeyed the 10th but got the shot back on 11th to stay on in the Top-10.
A double bogey on 13th, when she missed on the right side and did not have much of a shot, was followed by a bogey on 15th, dropping her to 2-over for the day before the birdie on 18th was some compensation.
Tvesa said, "It was nice to finish the day with a birdie and left me something to look forward to tomorrow. I need to get a few more birdies and not have three-putts."
She added, "This is a course where nothing is sure till the ball falls into the cup. Anything can happen and big numbers can crop up suddenly. We have already seen that over the last three days. Also one cannot miss on the wrong side, as I did on 13th and ended with a double."
She went on, "I have played this course quite a few times, even before the last two domestic events on the Hero WPG Tour. It sure helps to know the course."
Of the other Indians, Gaurika Bishnoi (72) endured a round with five birdies and five bogeys to be 1-over for three rounds and was Tied-19th with Ridhima Dilawari (71).
Vani Kapoor and Astha Madan shot identical cards of 2-under 70 each and rose to Tied-31st at 4-over 220, while amateurs Diksha Dagar (73), Sifat Sagoo (73) and Pranavi Urs (74) were all at 8-over 224 and Tied-51st.
Gaurika said, "I am happy that I managed to make a good recovery right at the end with birdies on 16th and 18th. I didn't have the best of starts with three bogeys in the first six holes and another on the eighth. I made some errors and missed a couple of short putts, including one from two feet on the fourth. I missed a couple from five and eight feet also."
"Overall I had five birdies and five bogeys. The good thing is I have made a lot of birdies, 14 in all, but also given away a lot. I am 1-over for three rounds, which means I gave away 15 bogeys and that is a lot."