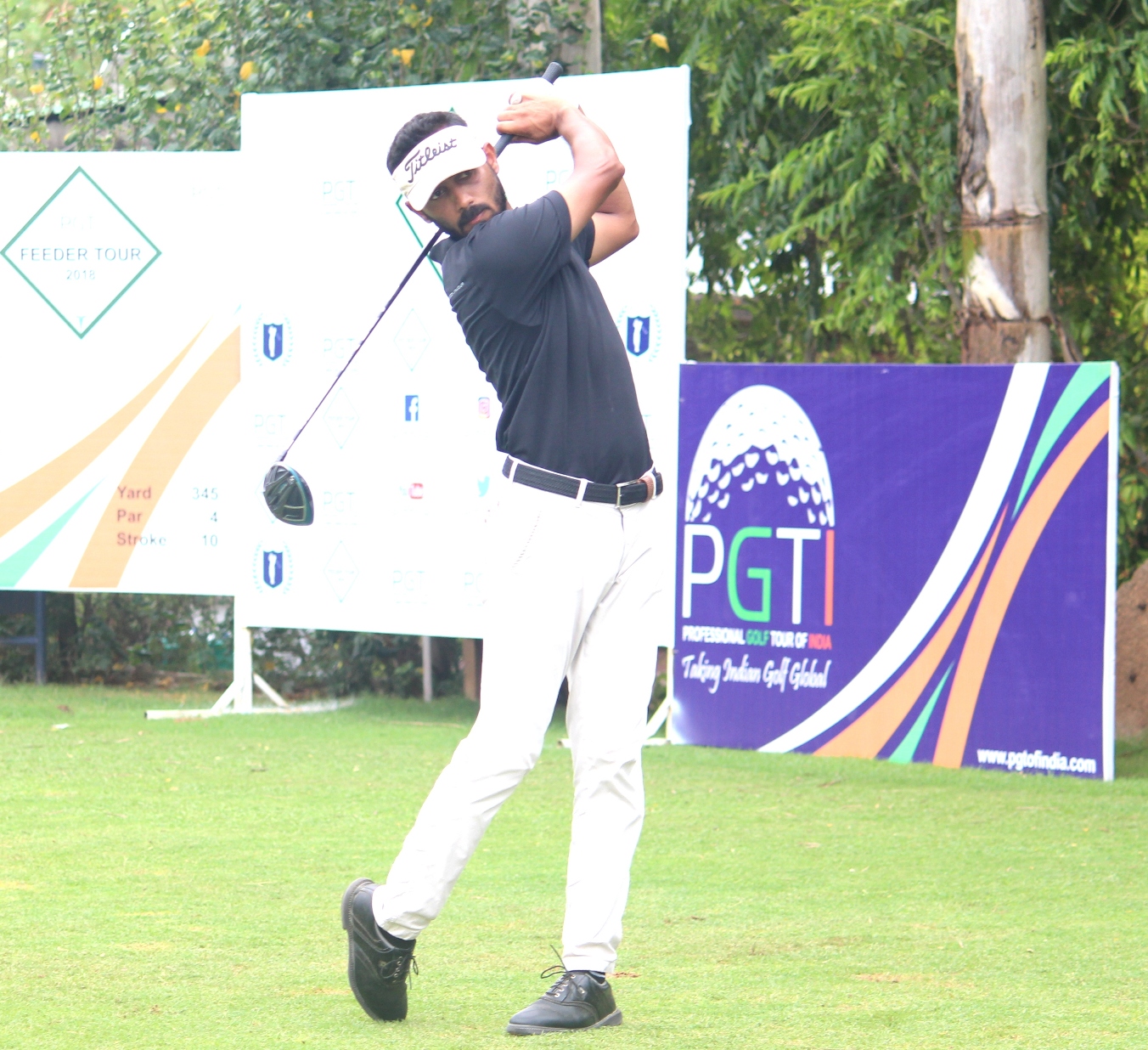 First round joint leader Arjun Sharma of Greater Noida maintained his position atop the leaderboard on day two of the PGTI Feeder Tour event at the Rambagh Golf Club in Jaipur.
Sharma returned an error-free three-under-67 on Wednesday to take the sole lead at seven-under-133 on a rainy and windy day.
Chandarjeet Yadav (67) of Panchkula was one shot adrift in second place.
Arjun Sharma (66-67), one of the five joint leaders in round one, further consolidated his position on day two despite the tough weather conditions. His 67 was the day's joint best score.
Sharma struggled with his hitting in the initial stages of his round and scrambled with some quality chip-putts on the first four holes. The 25-year-old then found his ball-striking rhythm from the fifth hole onwards.
Arjun, who turned professional in 2015, pocketed two birdies in quick succession on the sixth and eighth, making a 50-feet conversion on the former, to rise above the rest of the field.
After missing a few short birdie putts on the back-nine, Sharma rounded off his day in style with an up and down from the bunker for birdie on the 18th.
Arjun, still looking for his maiden title, said, "The conditions were tougher today as compared to round one due to the rain and wind. But I stuck to my task well to hang on to the advantage. I made a crucial up and down from the bunker for par on the 13th which gave me a lot of confidence besides my three birdies.
"It's good to have a bogey-free round heading into the final day. However, now I'll just look to take it one hole at a time and not get ahead of myself."
Chandarjeet Yadav (67-67) and Delhi's Pawan Verma (68-67) also shot the day's joint best score of 67 to be second and third respectively.
Yadav mixed four birdies and a bogey to total six-under-134 while Pawan Verma, a former winner on the Feeder Tour, produced five birdies and two bogeys to move his total to five-under-135.
Jaipur's Hemendra Choudhary (67-69) occupied fourth place at four-under-136.
Among the other joint round one leaders, Bikramjit Singh Sandhu (71) slipped to tied fifth at three-under-137, Victor Hans (73) dropped to tied 10th, Gulfam (74) moved down to tied 13th and Amardeep Rawat (75) slipped to tied 16th.
Jaipur's Vishal Singh closed the day in tied 25th at four-over-144.
The cut was applied at five-over-145. Forty-one professionals made the cut for the last round.