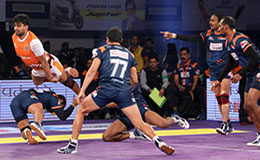 Kolkata: Bengal Warriors pulled off a win in their very first outing at home in the Season 3 of Star Sports Pro Kabaddi when they staved off a big threat from Manjeet Chhillar. Nitin Tomar was the hero for Kolkata with 11 points. They won at 33-28 in a ding dong tussle with two all outs with the second coming in the last minute which sealed the match. Pune too dismissed all the rivals one and Manjit was instrumental in doing that.
The lion hearted Manjeet Chhillar with 13 points in the match. His three super tackles in the first half kept his side in the fray at half-time with an 11-10 advantage at half-time. He even engineered super raid of five points in the second half. At that time he put his team ahead at 24-23. All the hard work went waste as Nitin Tomar the hero for Bengal came up with a two pointer and followed it up with a super raid of his own to make it 28-25. That effectively took the match away from the Pune side.
For Bengal Warriors it must be said that they played cohesively as a unit. In defence Bajirao Hodage had four successful tackles. He nullified the threat of Deepak Hooda on three occasions, all in the beginning of the second half. They helped his side inflict the first all-out.
The 22nd minute all-out propelled Bengal Warriors to 15-12. The winners drew away towards a healthy 22-18 lead only to see Manjeet put a spanner in their works.

Bajirao's partner in crime Girish Ernak had three tackle points. The others to impress for the Bengal Warriors were Jang Kun Lee with three points and Mahesh Goud the lanky raider who exhibited good jumping skills while vaulting over Tushar Patil and Prashant Chavan in fine style.
Pune have big problems on hand now. With Deepak Niwas Hooda and Surjeet off on national duty and Ajay Thakur not finding his bearings they will have a tough home leg coming.

Bengal having made a confident start at home will be hoping to continue the good run in the next three days.