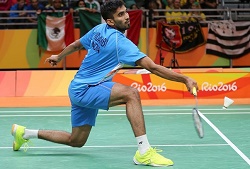 Rio de Janeiro: Adversity brings the best out of you, provided you are prepared to fight and Kidambi Srikanth showed ample of that quality in his quarterfinal match against two-time defending champion Lin Dan in the men's singles badminton match at the Rio Olympics on Wednesday.
Though he lost the match 6-21, 21-11, 18-21 the World No. 3 Chinese in a nerve-wrecking encounter that lasted for an hour and four minutes, he won many a hearts with his fighting spirit that stretched Dan beyond his imagination.

Kidambi seemed to have had lost his plot in the first game as the aura and awe of the two-time Olympic champion got over the Indian and he looked nervous early on. He was totally outclassed in the lop-sided opening game (6-21) which lasted just 16 minutes.

However, Kidambi was a different player in the second game, as he as took a 6-3 lead. He got better with every shot and was six points ahead of the champion Chinese shuttler at the interval. He seized every opportunity that came his way and soon surged to a 10 point lead at 19-10. Though he lost a point, making it 19-11, he won the game with a superb return at the forecourt.

But the best from the two was yet to come as the third match saw both the players matching each other shot by shot. Though Lin Dan opened up a 2-0 lead, Srikanth came back strong to make it 3-4. Dan took a 5-3 lead before Srikanth levelled it at 6-6 as Lin failed to lift a shot at the net. Thereafter, the Indian surged ahead at 9-8 when Lin Dan hit long and was soon at 11-8 advantage going into the break.

Srikanth upped his ante and kept Dan on the back-foot, but the experienced Chinese erased the deficit at 13-13. Thereafter, Srikanth let the glory slip from his grasp by committing a couple of unforced error that helped Dan tightened his grip on the game as he took a two point lead at 16-14. Though Srikanth fought for every point, wiining two in between, Dan surged to 19-16 lead. Srikanth pulled one back but netted another to give the match point to the Chinese. Srikanth saved one match point but Dan won the game and match 21-18.