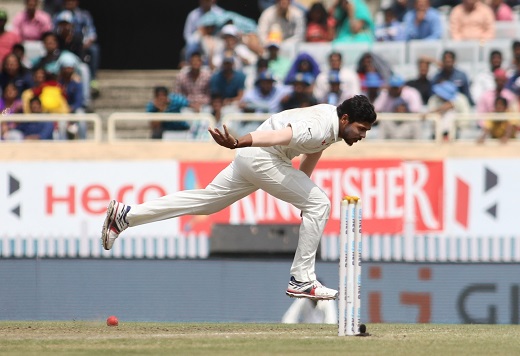 Ranchi: India pacer Umesh Yadav on Friday said that his recent improvement in form boils down to the fact that he is confident after getting to play regularly for the national teams.
Umesh has taken 12 wickets so far in the ongoing Test series against Australia. One of the improvements seen in his bowling is that he is not being expensive like he used to be in the past.
Also Read: India vs Australia, 3rd Test: India off to steady start after Jadeja show
"I'm doing the same thing but the confidence level is high, having played more matches. And the hard work is paying off. When I was in and out of the team, I was not sure what to do. With more matches, I began realising what to do and what not. I slowly realised my strengths and weaknesses. Now I have a better idea," the right-armer from Vidarbha said at a press conference.
"A lot was written in the media earlier that I bowl a leg-stump line and concede boundaries on the leg side. I have cut that off in a big way and slowly I got back to my rhythm. Trying to bowl in a best way."
Umesh has also said that the confidence has helped him bowl a variety of deliveries depending on the conditions.
"Once I understand the wicket, then I figure out if a cross seam ball will be effective or when it can be used as an effective ball. It is about understanding the wicket and deciding on a cross or upright seam. When I feel the ball can jump up off a length or variable bounce then I bring that into my game."