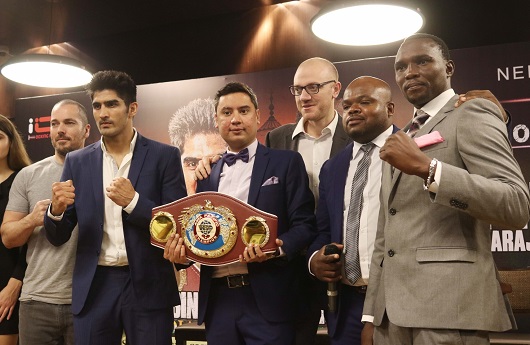 New Delhi: Francis Cheka, the former super middle weight champion, it seems has underestimated the India boxing poster boy Vijender Singh, as he termed his achievement of winning the bronze medal at the 2008 Olympics as a child play.
Meanwhile, Vijender Singh, confident of defending his WBO Asia Pacific Super Middleweight title, was quite expressive in giving reply to the 34-year-old Tanzanian. He said, "He thinks I am a beginner in the professional ring. I will just wait for four more days and show him what a child's punch feels like."
Also Read: Vijender Singh targets knockout in his maiden title defence against Francis Cheka
However, the statement failed to deter Cheka from being overly vocal. He said, "Vijender's Olympic medal is nothing. I am a World Champion and inter-continental champion. On December 17, Vijender will know why I am a world champion. I feel sorry India has picked Vijender to fight me. Vijender looks scared already. India will be ashamed on Saturday."
Vijender Singh took all the provoking statement made against him in a light manner and assured India to rely on him. "I don't care, who is in the opposition. My job is to go and fight. I have the requisite experience. At the end the better boxer will win," he said.
Vijender, in a satirical tone also claimed that " Checka has come to India for holidays, so he should enjoy his holidays and leave for his country with distorted face."
Notably Vijender Singh has won all the matches in his last seven encounters he has played so far since turning pro while the record of Francis Checka is not so impressive while playing at away locations.
The fans can witness the boxing heros in action on December 17 at Thyagraj Stadium Complex, New Delhi.