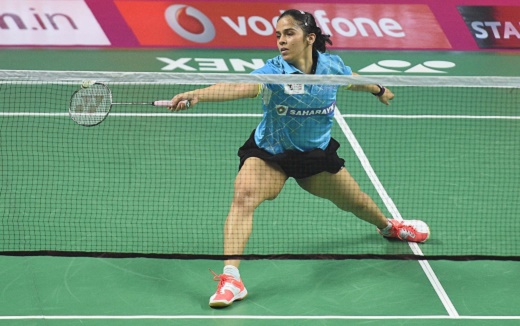 Bengaluru: Awadhe Warriors reached the semi-finals of the Vodafone Premier Badminton League (PBL) with a 4-3 win over Bengaluru Blasters at the Koramangala Indoor Stadium here on Monday.
Going into the tie, Bengaluru needed a huge win over Warriors and it looked their fans were in for a treat after they won the first match to start on a positive note. But Awadhe won two consecutive matches to take 2-1 lead.
Saina Nehwal defeated Cheung Ngan Yi 9-11, 11-5, 11-5 in Awadhe's "Trump Match" to make it 4-1 for the Lucknow-based side.
In the final match of the tie, Bengaluru won their "Trump Match" as Sung Hyun Ko and Yeon Seong beat Markis Kido and Goh V Shem 6-11, 11-9, 11-9 in the men's doubles match to reduce the deficit to one point.
Earlier in the day, the home side made a perfect start as Sourabh Verma beat Vincent Wong Wing Ki 13-11, 11-7 in the opening match to give them a huge boost for the remainder of the tie.
But Awadhe soon equalised when Savitree Amitrapai and Bodin Isara overcame Sung Hyun Ko and SikI Reddy 9-11, 11-4, 11-5 in the mixed doubles contest.
In the third match, it was Kidambi Srikanth of Awadhe who beat 2016 Rio Olympic silver medallist Viktor Axelsen 11-9, 11-9 to help his side take a 2-1. Afterwards, Saina utilised her experience to win Awadhe's "Trump Match" to seal the tie.
Following the win, Awadhe took their tally to 18 points which ensured their qualification to the semi-finals. Bengaluru are in the third spot with 11 points from five ties.