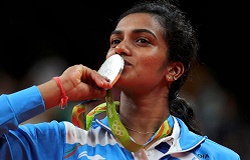 Not often do we savour moments of delight where an Indian comes out triumphant against a Chinese in a sport where the later have held their hegemony since decades. But Pusarla Venkata Sindhu once again broke those shackles when she beat China's Sun Yu 21-11, 17-21, 21-11 in 69 minutes to win the China Open, her maiden Super Series title. She preserved her best for the last, as after a gruelling three-setter in the semi-final, the Hyderabadi youngster got the better of the Chinese in the final that catapulted her into the top 10 of Badminton World Federation (BWF) rankings.
An amalgamation of flair and character, Sindhu has been dishing out the kind of stuff that raises hopes of a bright future. Sindhu, off late, has shown enough will power that has helped her in paving her way in a sport considered to be highly competitive. She not only became the first Indian woman sportsperson to win a silver medal at the Olympics in Rio, in the process also came out of the shadow of more illustrious Saina Nehwal, who had been the best India had seen in women badminton till then.
Cool on the court, she is a synergy of mental and physical strength and it's these qualities that have helped her in climbing up the ladder step by step ever since she won her maiden Grand Prix gold at the Malaysian Open in 2013.
Like every other great athletes, Sindhu, too, has her work ethics that have played a major role in her success. She, too, had her struggles and challenges. Travelling for more than 50 km every day to reach her training centre (Gopichand Badminton Academy) from her house in Hyderabad and training for seven hours speak volumes of her sportsperson spirit. And it's her spirit and dedication that reflects in her game.
Coming to her achievements, year 2013 proved to be an eventful year for the champion, as apart from the Malaysian Open, she went on to win the first of her hat-trick of titles at the Macau Open. She hasn't looked back since then. In 2014, she reached the semi-finals of Commonwealth Games in women's single category. In 2015, she won the Malaysia Masters Grand Prix Gold women's singles title. The same year, she became the first ever Indian women's singles player to win a medal at World Championships and also the youngest to be honoured with India's fourth highest civilian award, the Padma Shri. And when she won the silver in Rio Olympics, she achieved like no Indian woman before.
With her positive attitude and never say-die spirit, PV Sindhu is sure to have her seat in the pantheon of greats.
Major titles
2011 Indonesia International
2013 Malaysia Masters
2013 Macau Open
2014 Macau Open
2015 Macau Open
2016 Malaysia Masters
2016 Silver medal at Rio Olympics
2016 China Open