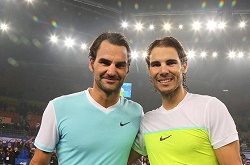 Legends can't be compared nor hated. Someone truly said, "Had Nadal not been born, we would have remembered only Federer's master strokeplay. It is only because of him that we will remember Federer's matches."

Nadal brings out his best against one-handed back handers. Before this year, he had a perfect record against the likes of Nicolas Almagro, Stan Wawrinka, Richard Gasquet, and many more one-handed back hand players. And then there is Federer. Going by the record, it seems a very impressive achievement that Federer managed to win 10 matches against him.
Here are the following reasons why Nadal is extremely effective against one-handed backhand players:

Exploitation of backhand by Nadal: Even in his autobiography, Nadal has cleanly stated his tactic against Federer – exploit his backhand. Well, a question can be asked as to why other players have not been able to successfully use the same tactic? The answer lies in the topspin Nadal incorporates in his shot. (avg of 5000rpm)

Federer's textbook backhand involves a cross-court backhand, which is right back to Rafa's forehand. He exploits this to a very large extent. It is very hard to return the high rising topspin deliveries with a single handed backhand.

Moreover, most of their matches have come in clay/slower hard courts. So, Rafa has all the time to go around the ball, even if it comes to the backhand side.

Why has Federer been unsuccessful?

1. Age: Well, as age progresses, the level of perfection decreases, even for a champion like Federer. Though Federer did manage to hold on to Rafa during his peak, he has been on a decline against him since the epic 2008 Wimbledon final.

2 Attributes: Federer is all about talent and beauty and elegance and shot selection and precision. He is predictable but that not in a way that he is vulnerable. Once in a while, he can hit a shot so out-of-the-text book that his opponents can only watch. But at the same time, his opponents sometimes pick him out, which Nadal does rather brilliantly.

Some people also believe Rafa has taken performance enhancing drugs in the past. This leaves a sour taste in their mouths even though not proven. Both are very good players, just very different type of people.

Every time Novak Djokovic plays either Rafa or Roger, his virtual fan base increases. When he is playing Rafa, Federer fans root for Novak pompously. When he plays Roger, Rafa fans do the same.

But Nadal is completely different. He doesn't have a great gameplay. But he goes after shot. Every ball. And he doesn't seem to get tired at all, which is again unlike Federer. His lazy elegance simply has no answer against Nadal's gutsy perseverance. Tough luck Fed.
By Shashank Vyas