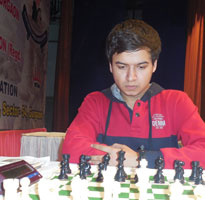 Gurgaon: Grandmaster Sahaj Grover maintained his joint lead with five and half points after splitting the point with Russian Grandmaster Alexander Evdokimov in the sixth round of the ongoing 2nd Gurgaon International Grandmasters Chess Tournament here at Suncity School.

Playing safe with dark pieces in Grunfeld defence game, Sahaj agreed to split the point with his Russian rival in just 17 moves while another 17 moves peace treaty on the top board battle between Ukranian Grandmaster Kravtsiv Martyn and second seed Oliver Barbosa made the leaders table intact in the Rs.10,11,000/- prize money event.

A pack of eleven players, including Grandmasters John Paul Gomes of Philippines, Tornike Sanikidze of Georgia and Raset Ziatdinov of USA are sharing the joint second spot with five points. Gomez beat Indian International Master Vikramaditya Kulkarni while Sanikidze and Ziatdinov got better off CRG Krishna and Tillayaev Ulugbek of Uzbekistan respectively in sixth round. International Masters Prasanna Rao and N Srinath split the point to be among the eleven players.

Grover playing against top seed Martyn while Barbosa paired against Prasanna Rao.in the seventh round which is now under progress at the time of repot and the round was inaugurated by Shri. Narender Chandok, Vice President Hero Group; Shri. H P Yadav, President, Gurgaon Chamber of Commerce; Smt. Pinky Poonia, Director International Real Tech Pvt Ltd; Shri. Attar Singh Sandhu, Chairman Chirag Welfare Association and R S Chauhan, film actor and director.

Important Results (Indians otherwise stated) :-

Round - 6 :- GM Kravtsiv Martyn of UKR (5.5) drew with Oliver Barbosa of PHI (5.5); GM Alexander Evdokimov of RUS (5) drew with GM Sahaj Grover (5.5); IM Prasanna Rao (5) drew with IM Srinath N (5); GM John Paul Gomez of PHI (5) beat IM Vikramaditya Kulkarani (4.5); Visakh N R (4.5) drew with GM Merab Gagunashvili of GEO (4.5); CRG Krishna (4) lost to GM Tornike Sanikidze of GEO (5); GM Arun Prasad (4.5) drew with Pradeep Kumar RA (4.5); FM Akmal Faizulaev of UZB (4.5) drew with GM Eldar Gasanov of UKR (4.5); Abhishek Kelkar (4) lost to IM Swayams Mishra (5); IM Shyam Nikil (5) beat Akash PC Iyer (4); Niranjan Navalgund (4.5) drew with IM Rajesh VAV (4.5); IM Satyapragyan (4.5) drew with Chinmay Kulkarni (4.5); GM Raset Ziatdinov of USA (5) beat Tillyaev Ulugbek of UZB (4); Sameer Kathmale (5) beat Joshi G B (4); Deepthamsh Reddy (4.5) drew with Kunal M (4.5); IM Karthikeyan P (5) beat Bobir Sattarov of UZB (4); IM Nitin S (4) lost to Karthik V (5); IM Shivananda B S (4.5) drew with WFM Sarvinoz Kurbonboeva (4.5); GM Valeriy Neverov of UKR (4.5) beat Ram S Krishnan (3.5); GM S Kidambi (4.5) beat Vikramjit Singh (3.5).