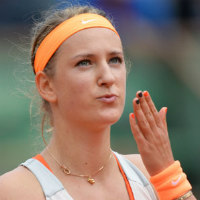 Paris: Defending Champion, Maria Sharapova, has made it to the semi-finals of French Open after she had a tough contest against Jelena Jankovic in the quarter-final. After losing the opening set, second seeded, made an impressive comeback to win the next couple of sets to seal the spot for semis.


Sharapova was pinned down in the first 30 minutes as he lost the first set by 0-6, which left everybody stunned. She was all over the place which concluded in 20 unforced errors behind her under par performance. This was the fourth time in her career that Sharapova had lost a set 6-0. But very soon she got mollified and executed some of the fiery shots which Serbian had no answer.


Russian fluffed the perfect start made by Jankovic. With groundstrokes, she started to find some consistency which allowed her turn the match on her head as she started dominating rallies with her heavier firepower and she eased out into a 5-1 lead before sealing the win three games later. Second seeded Russian went on to win the match by 0-6, 6-4, 6-3 over tough Jelena Jankovic in a compelling quarter-final tie.


"I knew after the first set that I had to change things around. I just had to erase the chapter and move forward. I still felt I was in the match and I broke her in the first game (of the second).She played such a great match from the beginning and was very aggressive," Sharapova said of her opponent.


Meanwhile, in the other crunch match of French open, it was Victoria Azarenka who made it to the first time as a semi-finalist at Roland Garros, as she won her match against Maria Kirilenko, 7-6 (7/3), 6-2.


She faced a stiff competition from her opponent in the first set which went on till the 76 minutes. But she finally managed to win the opening set as Kirilenko's firepower was just not enough to stop her. Kirilenko went for a medical time out after the seventh game which allowed Belarusian to notch the first set.


Azarenka kept her dominance in the second set and took the 3-1 lead when Kirilenko served up a fifth double fault of the match. She went to two match points in the eighth game and secured victory when Kirilenko hit a forehand long.


"But I am really happy to get through to my first semi-final in Paris at the third time of asking. Maria is such a great competitor and it was a really tough start," said Azarenka.


Sharapova and Azarenka have played each other 12 times with the Belarusian 7-5 ahead, although it will be their first meeting this year.


The women's semi-finals will be held on Thursday with top seed Serena Williams taking on last year's runner-up Sara Errani in the other match.