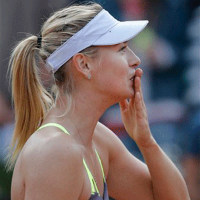 Paris: Maria Sharapova has moved an inch closer to defend her French Open title after she surpassed Victoria Azarenka in the semi-finals on Thursday with a 6-1, 2-6, 6-4 win.


Sharapova took an edge as she won the opening set quite comprehensively but it was some brilliant resilience shown by her Bulgarian opponent which took the match to third and final set. But finally Russian got the better off Azarenka and made her way to the finals of French Open.


Sharapova had an awful start, just like she had in the quarter-finals against Jelena Jankovic. She committed two double faults leading to a dropped serve in the first game. But she breezed through the opening set by winning four games on trot.


Sharapova was looking in brilliant touch when it came to her serve which allowed her to wrap up the set 6-1 after just 28 minutes. However
Azarenka took the second set 6-2.

The match was halted by a brief rain and the players were off the court for 35 minutes.

"(The rain delay) gave me a little bit of time to think of what I did well in the first set and tried to get that back again for the third. I really had to play to the end today and I am extremely happy to be back in the final," said Sharapova.