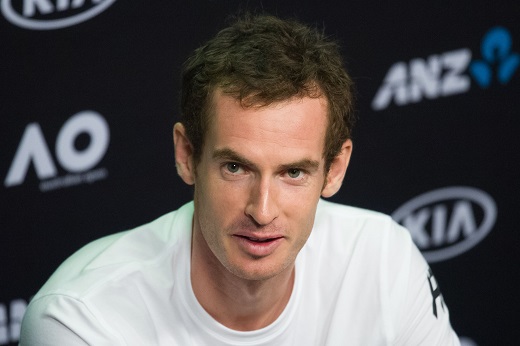 Madrid: Briton Andy Murray continued to lead the men's Association of Tennis Professionals (ATP) world singles rankings released on Monday, in a week with no changes in the top 10.
With 10,370 points, Murray continued to lead the rankings of the last week, a position he has managed to maintain since November 7, reports Efe.
In second place was Serbian Novak Djokovic with 7,445 points, ahead of Swiss Stan Wawrinka, who held third place with 5,695 points.
Spaniards Rafael Nadal and Roberto Bautista continued in fourth and eighteenth place respectively.
Meanwhile, German Angelique Kerber remained at the top of the Women's Tennis Association (WTA) world singles rankings released on Monday, while the top ten saw no changes from last week.
The United States legend Serena Williams, who is not expected to play again in 2017 because of her pregnancy, was again in the second place of the ranking and the Spanish Garbiñe Muguruza still occupied the fifth position, reports Efe.
The current ATP rankings and point scores are as follows:
1. Andy Murray (Britain) 10,370 points
2. Novak Djokovic (Serbia) 7,445
3. Stan Wawrinka (Switzerland) 5,695
4. Rafael Nadal (Spain) 5,375
5. Roger Federer (Switzerland) 5,035
6. Milos Raonic (Canada) 4,450
7. Dominic Thiem (Australia) 4,145
8. Marin Cilic (Croatia) 3,765
9. Kei Nishikori (Japan) 3,560
10. Alexander Zverev (Germany) 3,150.
Madrid, May 29 (IANS)
The current WTA rankings and points are as follows:
1. Angelique Kerber (Germany) 7,035 points
2. Serena Williams (United States) 6,110
3. Karolina Pliskova (Czech) 6,100
4. Simona Halep (Romania) 5,790
5. Garbiñe Muguruza (Spain) 4,636
6. Elina Svitolina (Ukraine) 4,575
7. Dominika Cibulkova (Slovakia) 4,480
8. Johanna Konta (Britain) 4,330
9. Svetlana Kuznetzova (Russia) 4,310
10. Agnieszka Radwanska (Poland) 4,095.