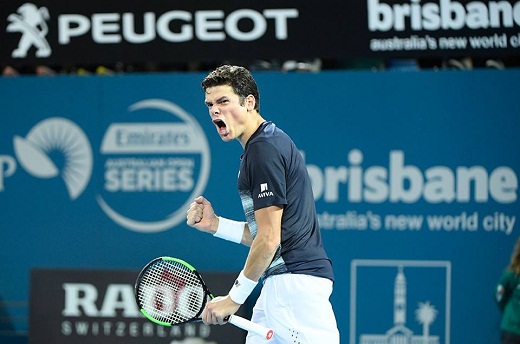 Melbourne: Third-seeded Canadian tennis player Milos Raonic on Thursday advanced to the third round of Australian Open defeating Luxembourg's Gilles Muller 6-3, 6-4, 7-6 (4).
Raonic will now take on Gilles Simon, who beat Brazilian Rogerio Dutra Silva 6-4, 6-1, 6-1, reports Efe.
"I played well and was efficient. I got the breaks and faced some scares. I played well in those situations and stepped up at the end of that third set. He stepped up, as well. I'm happy I was able to finish it out there," Raonic was quoted as saying by ATP's official website.
Also Read :Denis Istomin stuns Novak Djokovic at Australian Open
"Then this morning, I felt pretty bad waking up. I didn't warm up much. I just came out with the sort of idea of put everything into the match, try to solve it (and) understand the importance of the mental side of things in that situation," Raonic explained.
Commenting on his opponent, Raonic said: "I've watched him play a lot. I've played him in quite a few important matches. He's going to be there, really trying to get me to play at his speed, his rhythm. Obviously he tries to slow things down, play low.
"I won't have the opportunity to get too many swings at many shots. I've got to serve well and I've got to be aggressive and I've got to take it to him. The last thing I want to do is get into this sort of game of playing long rallies with him," he added.