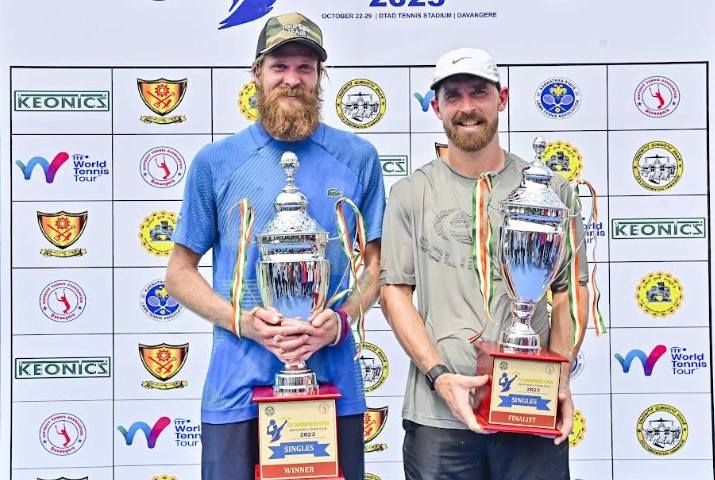 Davangere: Bogdan Bobrav wasn't feeling too well after the ITF Dharwad Open. His new friend and doubles partner over the last three weeks, Nick Chappell coaxed him to come to Davangere, the host city of the ITF Davangere Open. Six days later, the second-seeded Bobrav thanked his doubles partner, for, he lifted the singles title at the Davangere Tennis Association Courts, incidentally beating the top seed Chappell to grab the winners prize of US $ 2160 while garnering 15 ATP points. Chappell had to settle for the runner-up cheque of US $ 1272.
Bobrov who had lost in the semifinals last week, demonstrated solid consistency and a powerful presence on the court. His ability to control the pace of the game, deliver precise shots, and maintain a strong mental composure in critical moments proved to be decisive in his path to a 6-3, 7-6 (4) victory, his career's 6th ITF title and third on hard courts.
The duel began with Bobrav breaking his opponent's serve in the very first game to wrest the initiative and took a 2-0 lead. After both the players held their respective serves for the next six games, Bobrov once again achieved a break in the ninth game to win the first set 6-3.
The taller of the opponents, Bobrav was two breaks up for a 3-1 lead in the second set, thanks to a few unforced errors by Chappell and a couple of good passing shots by Bobrav. However, the southpaw who got the maximum support from the partisan Sunday crowd, made a superb comeback playing some aggressive tennis and levelled at 3. Both the players entertained the supporters with some fine display of tennis with long rallies and slices that almost kissed the net on most occasions. With both the players holding their respective serves, the set went into a tie-breaker where Bobrav prevailed 7-4.
Results
Singles (Final)
2-Bogdan Bobrov bt 1-Nick Chappell (USA) 6-3, 7-6 (4).