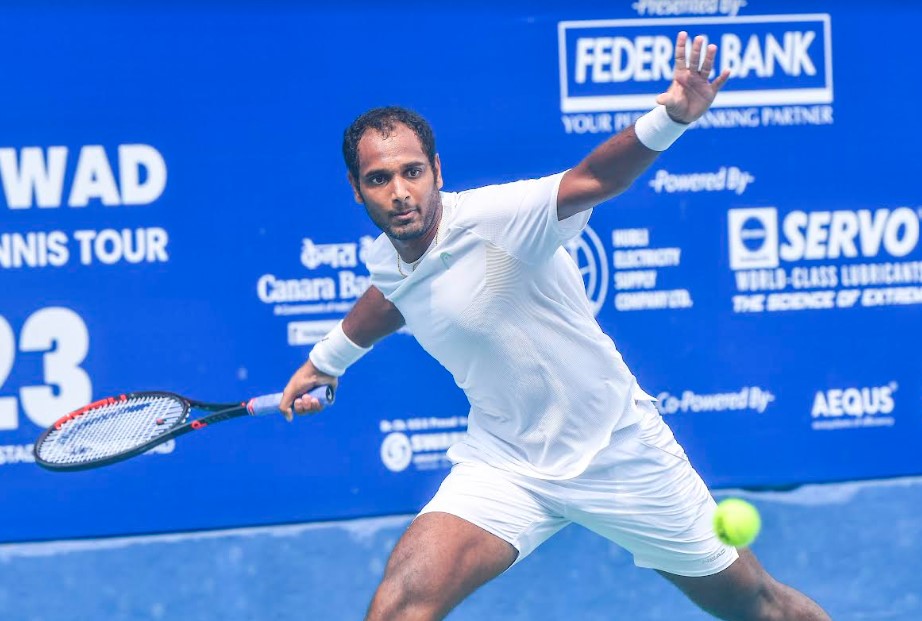 Dharwad: The ITF Dharwad Men's World Tennis Tour is heading into an exciting climax as the top four seeds made it to the semifinals of the US $ 25,000 prize money event being held at the Dharwad District Lawn Tennis Association.
In the much-anticipated Singles quarterfinals played here on Friday, top-seeded Nick Chappell from the USA displayed his exceptional skills by defeating the seventh seed, Sidharth Rawat, with a score of 6-2, 6-4. Second-seeded Bogdan Bobrov faced a challenging battle against the sixth seed Frenchman, Florent Bax, in a match that kept fans on the edge of their seats. Bobrov, held his nerves at the right moment to secure his spot in the semifinals with a 7-6 (6), 7-6 (3) victory after a see-saw battle that lasted nearly two hours.
The third seed, Digvijay Pratap Singh, engaged in a fierce contest against Japan's Kazuki Nishiwaki, the fifth seed. Digvijay who dropped a set, ultimately emerged victorious with a final score of 6-4, 6-7 (3), 6-2. The fourth seed, Ramkumar Ramanathan, displayed resilience and strength in his match against the eighth seed, SD Prajwal Dev. Ramanathan clinched a hard-fought victory with a score of 6-4, 4-6, 6-1 while securing his place in the last four stage.
Ramkumar will clash with Chappell while Bobrov will face the fast-improving Digvijay for a place in the final.
Meanwhile, in the doubles final to be held on Saturday, the unseeded pair of Sai Karteek Reddy Ganta and Manish Sureshkumar ousted fourth seeds Siddhant Banthia and Vishnu Vardhan in three sets 3-6, 7-6 (3), 11-13. The former set up a title clash with third seeded duo SD Prajwal Dev and Nitin Kumar Sinha who beat the team of Digvijay Pratap Singh and Karan Singh 6-3, 6-3.
Results
(All Indians Except Mentioned In Brackets; Seedings In Pre-Fix)
Singles: Quarterfinals
1-Nick Chappell (USA) bt 7-Sidharth Rawat 6-2, 6-4; 2-Bogdan Bobrov bt 6-Florent Bax 7-6 (6), 7-6 (3); 3-Digvijay Pratap Singh bt 5-Kazuki Nishiwaki (JPN) 6-4, 6-7 (3), 6-2; 4-Ramkumar Ramanathan bt 8-S D Prajwal Dev 6-4, 4-6, 6-1.
Semifinal line-up: 2-Bogdan Bobrov vs. 1-Nick Chappell (USA) Vs. 4-Ramkumar Ramanathan Vs. 3-Digvijay Pratap
Doubles Semifinals
Sai Karteek Reddy Ganta/Manish Sureshkumar bt 4-Siddhant Banthia/Vishnu Vardhan 3-6, 7-6 (3), 11-13.
3-SD Prajwal Dev/Nitin Kumar Sinha bt Digvijay Pratap Singh/Karan Singh 6-3, 6-3
Quarterfinal
Digvijay Pratap Singh/Karan Singh bt Jake Bhangdia(USA)/Raghav Jaisinghani 6-0, 6-2.