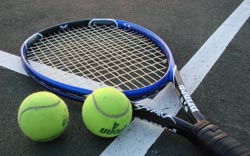 Kolkata: Top two seeds in boys singles draw, Hua Chen Yu and Dostanbek Tashbulatov, entered the semi-final of the ongoing International Tennis Federation (ITF) Juniors tennis tournament here on Thursday.
Bengal's Yubrani Banerjee, a wild card entrant, saw her dream run end when she went down fighting against third seed Akansha Bhan by a close 4-6,7-5,3-6 at the red clay courts of the Dakshin Kalikata Sansad.
The championship, on its 25th year, will witness the finals on Saturday.
Also Read :Graf, Cawley, Williams, Wynne Bolton and Court: Most successful women players in Australian Open
Top seed in boys singles draw Chinese Taipei's Chen Yu crushed the hopes of eighth seed Rishabh Sharda 7-5, 6-2 in the quarter-final.
Kazakhstan's Tashbulatov, seeded second in the draw, blanked Parikshit Somani 6-4,6-0 in one hour and forty four minutes.
The only Indian in the semis of the boys singles draw, the third seeded Dhruv Sunish got the better of Megh Bhargav Patel 6-1,6-2.
In the girls singles category, top seed from Belgium Axana Mareen ousted Rhea Verma 6-1, 6-4.
Qualifier Lasya Patnaik on the other hand stole the show by entering the semi-final with a 6-3,7-5 win over Shivani Manjanna.