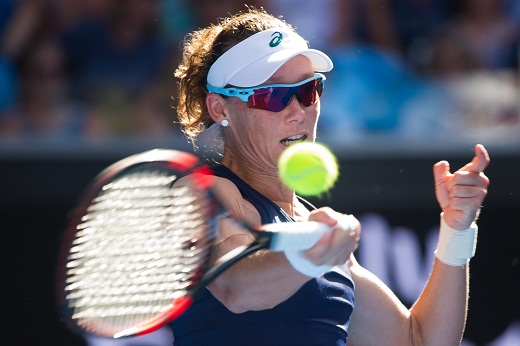 Melbourne: Sulking around and dwelling on the past isn't the ointment of choice for Australia's leading woman tennis player Samantha Stosur after world No.86 Heather Watson ended her redemption run at the Australian Open here on Tuesday.
"I've (comeback) before, I've done it many times before," the world No.17 told reporters after going down 3-6, 6-3, 0-6 in her opening round on Tuesday, adding there's "obviously things I need to improve" and "need to do it quickly" in the belief she'll make it back to the top, reports Xinhua.
"That's kind of the outlook I have to take. I mean, that's certainly one that's going to make me feel better rather than going home and sulking for the next six months.
"I still feel like I've got good tennis in me, I don't feel like it was all bad today or it was a big disaster."
It was a match that could have gone either way as Stosur continues her search for confidence -- and the form that led her to her maiden Grand Slam in 2011 and the semi-finals at the 2016 French Open -- after her eighth straight loss, with both ladies battling hard in long points -- one some 10 minutes long -- despite Watson progressing to round two.
But Watson wasn't thinking about Stosur's poor run of late, or the fact she's never progressed past round four in her home major with the ledger squarely in the Aussie's favour prior to Tuesday's battle.
"I didn't feel (any tension) in the way she was playing today. I've played her twice before and it was very similar," Watson told reporters, adding there was more tension in her game the last time they met.
The word around the locker room means it's a great draw if you're facing Stosur first up due to her poor record down under, but Watson wasn't going to focus on what other people said and focus on her own game.
"She still played well, she served well, she had the crowd with her," Watson said.
"It's not easy, and she's obviously a great player, she's (top) 20 in the world."
Watson faces tournament qualifier, world No.116 Jennifer Brady from the United States in round two, while Stosur will remain at the Melbourne Park to take on the doubles and mixed doubles for some "fun".
"It will be good to get out there tomorrow and play doubles," Stosur said.
"Any win's a good win. I'll go out there and, again, give it my best and hopefully can do that."
Australia however still has hope to win its home Grand Slam with 22-year-old and world No.26 Daria Gavrilova taking on world No. 97 Naomi Broady of Britain on Tuesday night.