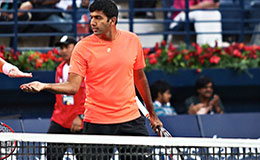 Chennai: Rohan Bopanna and Jeevan Nedunchezhiyan will lead Indias challenge in the 22nd edition of the Aircel Chennai Open tennis tournament which will begin at the SDAT Tennis Stadium here on January 2, next year.
India's highest ranked doubles player Bopanna (No.28) paired up with Nedunchezhiyan (No.100) earlier this year, going as far as the quarter-finals in the Chengdu Open in China.
They will begin the tournament as seventh seeds and will look forward to support from the stands to surge through the early rounds.
Chennai will see three other Indian pairs competing for honours, with Purav Raja (No.65) and Divij Sharan (63) getting direct entries and Sriram Balaji-Vishnu Varadha & Saketh Myneni-Ramkumar Ramanathan getting wild cards.
Leander Paes, seven-time Olympian and 18 Grand Slam-winner -- including eight doubles and ten mixed doubles titles, will however, continue to be India's biggest attraction in the doubles.
Also Read: Paes is one of the biggest stars of doubles and one of the best players in history of sport: Nadal
He has been seeded third with Andre Sa of Brazil (No.53) and will hope for a grand run at the city where he learnt his tennis as a young prodigy.
Jonathan Erlich of Israel (51) and Scott Lipsky of the United States of America (48) will begin the season opener as the top seeds and favourites for South Asia's only ATP world tournament. Erlich-Lipsky played together as long ago as in 2010 and had a 2-1 win-loss record before they went their own ways.
Ten pairs of teams were released by the ATP on Tuesday, including one Argentine, one Swedish and one Dutch team as well. Guillermo Duran (No.56) and Andres Molteni (No.55) of Argentina are the second seeds. The pair has been playing together since 2011 and has a 50 per cent win-loss ratio in their 32 games on clay.
The tournament will also see Yen-Hsun Lu from Teipei with a singles rank of 62 play with his partner Andre Begemann from Belgium.