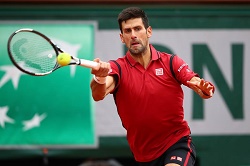 Melbourne: All but two of the world's top 200 men and women's tennis players will compete at the 2017 Australian Open, tournament directors announced on Thursday.
The all-star field of players, which is missing one of the top 100 players from both the men's and women's field, will be led by two new world number ones in five-time finalist Andy Murray and defending champion Angelique Kerber, reports Xinhua.
In addition to Kerber and Murray, Serena Williams and Novak Djokovic, who have both won the tournament six times each, will be chasing history.
Djokovic will be seeking to become the first ever man to win the Australian Open seven times while Serena will be hoping to win her 23rd Grand Slam title, surpassing Steffi Graf to set the new record for Grand Slams won in the Open Era.
The only top-100 player missing from the women's draw is two-time Australian Open champion Victoria Azarenka who in July announced she was pregnant while World No.20 Ivo Karlovic is missing from the men's draw.
The Australian Open Tournament Director Craig Tiley said he was looking forward to once again welcoming the world's best players to Melbourne.
"We have an exceptionally strong field for Australian Open 2017, and it's exciting to welcome two new world No.1s, and two new top seeds in Angie (Kerber) and Andy (Murray)," Tiley said in a statement on Thursday.
"We have been in regular contact with Roger (Federer) and Rafael (Nadal) and both are ready and excited for the Aussie summer, with Roger heading to Perth and Rafael to Brisbane for the first time.
"Like all the players, they can't wait to get to Melbourne and start the year off well. We're very excited about the changes onsite, and as always we have a few more surprises.
"The players already appreciate how close Melbourne Park is to the city, and how easy it is to get around. With the new bridge in place, and the whole precinct now facing the CBD, it's even more convenient and I have no doubt all the players and fans will have a great time."
The 2017 Australian Open will run from the January 16-29, next year.