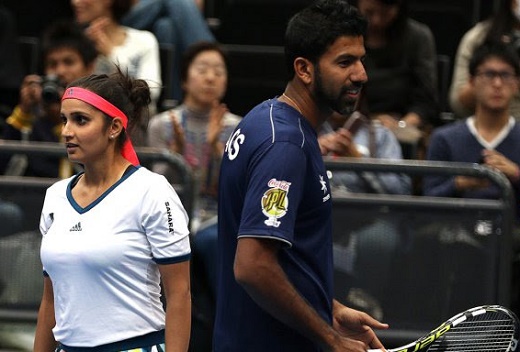 Singapore: The Indian Aces playing as the home team and the UAE Royals as the visitors. The Aces got sweet revenge and beat the Royals 26-19, preventing them from a bonus point in the International Premier Tennis League (IPTL), 2016, here on Tuesday.
Thomas Enqvist, the Aces' captain, came out on court with Kirsten Flipkens, Rohan Bopanna, Ivan Dodig, Sania Mirza, Mark Philippoussis and Feliciano López. John-Laffnie De Jager, who brought his UAE Royals to the top of the league during the first leg, had Daniel Nestor, Pablo Cuevas
Thomas Johansson, Goran Ivanisevic, Martina Hingis, Tomas Berdych and a special arrival.
For the Emirati side, Hingis' wishes came true and she got a partner in crime. Former world number 1 and 2008 Roland Garros champion Ana Ivanovic joined the team to be the women's singles contender.
Match Highlights
Kirsten Flipkens took advantage of having played the previous leg in Japan for the Indian Aces and beat her friend Ana Ivanovic to bag the first set. It was all about angles for the Belgian woman, who was unstoppable.
The Mixed Doubles set was again a battle between two former partners who also are very used to facing each other on big occasions when it comes to the mixed category. Sania Mirza (with Rohan Bopanna) and Martina Hingis (with Pablo Cuevas) were on opposite sides of the net and the victory was for the Indian duo, who carried on with Flipkens' confidence.
Everything came together for the Indian Aces and in the Legends set, Mark Philippoussis closed his set against Thomas Johansson with a Coca-Cola Power Point.
Then, Tomas Berdych lifted the Royals' spirit up with another win over Feliciano López right before the final and definitive set. In the Men Doubles set, it was time for López to make up his previous loss and, with Bopanna's help, finished the match on serve with a perfect game and a great win.