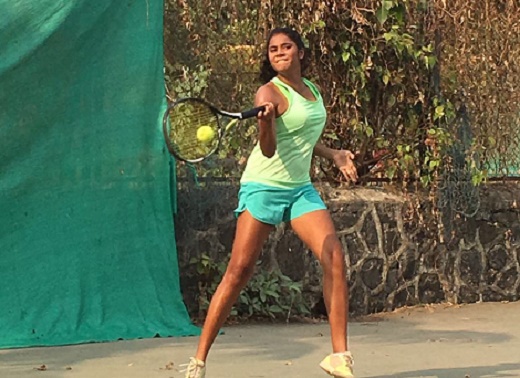 Mumbai: An upcoming 14 -year old tennis talent from Mumbai, Shanaya Naik, won the All India Tennis Association Singles and Doubles Girls U16 tournament held at Kalina, Mumbai University Grounds during week of 7th November 2016. Mumbai girl and Jamnabai Narsee International school student exhibited a series of forehand and backhand winners, which gave her an edge over her opponents. These are one of her many titles she has won in the recent years.
Shanaya not just dictated the singles while also won the doubles category along with Nazneen Khan. She won singles against Srishti Ray with a score of 6-0 and 6-4 while won the doubles against Kashish Bote & Bhumika Tripathi with a score of 6-3 and 6-1.
Delighted with the win, Shanaya said, "I am very excited to win this title. I was determined this time to give my best. Every single moment counts in this sport; that's why I train very hard. The more I train, the better I feel." Talking about her spirit and fitness, she added, "Regular exercises and a nutritious diet are something I rigorously follow. The long endurance levels and stamina required during tournaments are possible only through a strict regime and discipline, which I have attempted to practice in my daily life."

Shanaya started playing tennis since she was 7 year old, and since then has won several tournaments in the U-10, U-12, U14 & U-16 categories respectively.
Shanaya coaches under Ramarao Sir and Kiran Sir at Practennis, one of the leading tennis academy in India.

That apart, Shanaya also attended the Stanford University tennis camp in California in the summer of 2015, where she won the 'Best Player' award during the two weeks she played there. This summer she trained at Siri fort, Delhi with Aditya Sachdev.

Speaking of her, Paul Goldstein, Director of Men's tennis Stanford University said, "I found Shanaya to be highly motivated to accomplish her lofty objectives in tennis. She exhibited exemplary sportsmanship with continued development. I feel she has the potential to be an impact player on the ITF junior circuit in ITF in the upcoming years".

Shanaya has been playing tennis since around eight years. But in the last five years, she has developed a keen interest in tennis to pursue it as a career. Her parents' commitment towards this sport is total. Her tennis idols Nadal & Djokovich have been a strong motivation to pursue tennis.

This coupled with the support and encouragement of her school, Jamnabai Narsee International school, has helped her channelize all her energies into this sport!