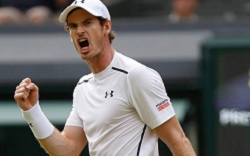 London: Andy Murray defeated Novak Djokovic 6-3, 6-4 not only to win the Barclays ATP World Tour Finals title but also took over the mantle of year-end No. 1 in the Emirates ATP Rankings, here on Sunday.
Murray reached the top of the tennis world with his 24th consecutive match win and fifth straight title. He cemented his place in the history books in becoming the 17th player to finish atop the Emirates ATP Rankings and first Brit to lift the trophy at the season finale.
"It's a very special day," Murray during the trophy presentation. "It's been a tough rivalry. I've lost many of them but obviously I'm happy I've got the win today. To finish the year No. 1 is very special. It's something I never expected."
Earlier in the match, it was Murray who grabbed the initiative and took the opener 6-3 after 46 minutes. Murray claimed 26 to 13 baseline points through the first 10 games of the encounter. The World No. 1 converted his fourth break chance in the opening game of the second set to surge ahead. Murray then fired a stunning backhand pass in the fifth game en route to claiming a second break and slamming the door shut.
It was the first time since 2000 in Lisbon that the year-end No. 1 player has been decided by the outcome of the championship match of the season finale.
Murray, who takes home $2,391,000 and 1,500 Emirates ATP Rankings points, is the 10th different No. 1 ranked player to win the title at the season finale. He claimed his 44th tour-level crown overall, improving to 44-21 in finals.
It must be mentioned that Djokovic, Roger Federer and Rafael Nadal have taken turns holding the No. 1 slot over the past 12 years. Andy Roddick, in 2003, was the last player other than those three to end the season at No. 1.