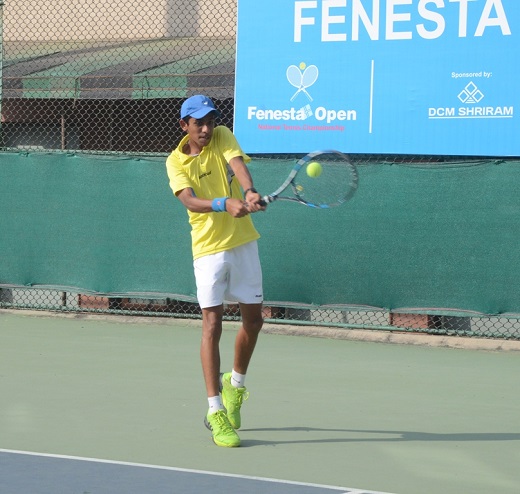 New Delhi: Top seed and favourite Siddhanth Banthia lined himself up for a double in the under-16 boys' section in the Fenesta Open tennis championship. Siddhanth continued to play with flourish as he beat Megh Kumar Patel, the fourth seed 6-2, 6-3 on Friday.
In sharp contrast, Dakshineshwar Suresh needed time and patience to work his way past Abhimanyu Vennenreddy for a 6-3, 2-6, 6-3 win in the second semi-final.
Clearly, Siddhanth has been in outstanding form this week and is happy about his shot at two possible titles on Saturday. "It feels great to be in the singles and doubles finals of the Fenesta Nationals which is one of the greatest tournaments," said Siddhanth.
For his part, Dakshineshwar was happy to pull off a win after a laboured fight. "It feels good to play in one of the biggest tournaments of India. I am excited to be in the finals of both Singles & Double," he said.
The girls' under-16 final will be contested by Prinkle Singh and Salsa Aher. Prinkle had tough moments to deal with against a gutsy opponent as she lost the first set in a tie-break and then came out tops against Tanisha Kashyap for a 6-7 (5/7), 6-3, 6-3 win. In the second semi-final, Salsa Aher dumped top seed Vaidehi Chaudhary 7-6 (7/2), 6-2.
Salsa was on cloud nine after the huge win. "I am really very excited to play the final. I wanted to win this match against Vaidehi because she had beat me in the last National semifinals and I had lost a chance to go in to the next round last year. This time I was really very confident and had the belief that I would win," she said.
Third seed Sandeep VM was all poise in the under-14 semi-final as he ousted top seed Aaryan Zaveri 7-6 (7/4), 7-5 after a good exhibition of tennis from the baseline. In the second semi-final, Ajay Malik waited patiently for his chances to beat Dev V Javia 6-3,3-6,6-1.
Sandeep VM said: "It feels great to be in the finals of the biggest junior event in India."
Ajay Malik said "I feel really happy because I have got in to the finals of this tournament for the first time".
The girls' under-14 final will be a contest between Sarah Dev and Sharannya Gaware. Sarah beat Sandeepthi Singh Rao 6-0,6-1 and Sharannya Gaware dumped top seed Sanya Singh, the first seed) 6-3,2-6,6-1.
"I feel great about my game today. I am really excited and nervous about reaching the finals. I will try and give my best tomorrow as it's a big day for me," said Sarah Dev.
Sharannya said "I am really happy to be in the finals of Fenesta Nationals. I fought really hard to get here. I am gonna give my best tomorrow."
The Doubles finals for all category also happened today the winners and runners up are as below:
Boys under 16
Megh Patel and Siddhanth Banthia bt Rohit Aynampudi and Dakshineshwar Suresh 6-2, 6-2
Girls under 16
Vaidehi Chaudhari and Yubrani Banerjee bt Dedeepya Sai and Salsa Aher 2-6, 6-2, 14-12
Boys under 14
Dev Javia and Sandeep VM bt Jaishvin Singh and Aaryan Zavari 0-6, 6-4, 10-6;
Girls under 14
Malikaa Marathe and Sandeepti Singh bt Mushrath Anjum and Surjana Rayarala 2-6, 6-1, 10-8
Semi Final results Singles:
Boys Under 16:
Siddhanth Banthia (Seed 1) beat Megh Kumar Patel (Seed 4) 6-2,6-3; Dakshineshwar Suresh (Seed 5) beat Abhimanyu Vennenreddy (Seed 2) 6-3,2-6,6-3
Girls Under 16:
Prinkle Singh bt Tanisha Kashyap 6-7 (5), 6-3, 6-3; Salsa Aher beat Vaidehi Chaudhary (Seed 1) 7-6 (2), 6-2;
Boys Under 14:
Sandeep VM (Seed 3) bt Aaryan Zaveri (Seed 1) 7-6(4), 7-5; Ajay Malik bt Dev V Javia (Seed 2) 6-3,3-6,6-1;
Girls Under 14
Sarah Dev (Seed 4) beat Sandeepthi Singh Rao 6-0,6-1; Sharannya Gaware (Seed 3) beat Sanya Singh (Seed 1) 6-3,2-6,6-1