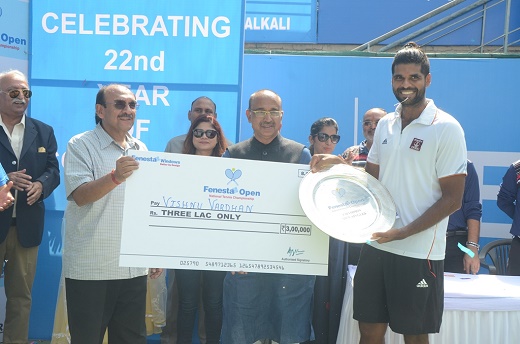 New Delhi: Vishnu Vardhan on Saturday beat Siddharth Vishwakarma 6-3, 6-4 to emerge as a champion in 2016 Fenesta Open Men's Championship. Terming it to be a great motivational win, Vishnu said that it's always a great feeling to be the National Champion and it's even more special to win the Fenesta Nationals without dropping a set in the whole week.
In an interview to Indian Sports News, Vishnu Vardhan talks in detail about participating in the reputed National Championship and winning it for the second time.
Q: Congratulation on winning your second Fenesta Open title in men's category. How has the game here changed over the years?

Vishnu: Nothing much has changed over here. I am playing here since the age of 10. The working committee still remains the same. It is so much inspiring for me to come to this place and play. It motivates me so much.

Q: You have been through so much of ups and downs in your career. In 2012 you reached a career high of 268, and then your ranking went down. But it has started improving now. What have you done to improve your game?

Vishnu: I got injured in 2012 and that's why my ranking went down. I started working on it. Now that I have fully recovered, I am trying to improve every day. I will attain the same position where I was earlier.

Q: Who is your favourite player in tennis?

Vishnu: Pete Sampras has always been my favourite player. He does not play now but I have always admired his playing style.

Q: Your friend Saketh Myneni is playing phenomenal tennis these days. What would you like to share about him?

Vishnu: Whatever he has achieved is so much inspiring for me. The way he is playing is motivating me to work harder and also play with passion.

Q: In the recent Davis Cup, Rafael Nadal came to play in India. How much do you think such star players visit would benefit Indian tennis?

Vishnu: It was really a great moment for Indian tennis. There was so much support for him and the game from the people of India. Youngsters have been motivated to take this sport and it is a good sign for Indian tennis.

Q: Any sports memories would you like to share with ISN?

Vishnu: I played in 2012 London Olympics and my partner was Leander Paes. The memory of playing for India at such a big tournament along with the best player of this country will always be big for me.

Q In recent Olympics, there were controversies regarding the selection of players. Any comment?

Vishnu: No comments.