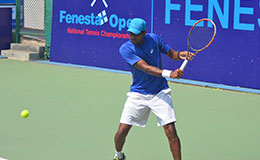 New Delhi: Vishnu Vardhan continued to rock and roll as he ended the fluent run of Kunal Anand in the Fenesta Open National Tennis Championship. On a muggy Friday at the expansive DLTA complex, Vishnu, the former Davis Cupper and Asian Games medalist demolished Kunal 6-3, 6-1 in the semi-finals.

"I am happy to back playing the Fenesta Nationals, which has always been one of my favourite tournaments. And nice to be in the finals for the 3rd consecutive time. Kunal is a talented and hard working player and nice to get a convincing victory against him. I got to a good start on both the sets which helped me in the win today"said Vishnu.
In Saturday's title clash Vishnu will take on S.Vishwakarma. Vishwakarma did not have to stretch much as he beat BavaHaadin 6-3, 6-3 in the second semi-final.
Vishwakarma said after his win, "I have recovered from an injury and am happy with my game this week and the win today. I am very excited about reaching the finals of the Fenesta Nationals and will put in my best."
There was plenty of excitement for top seed Riya Bhatia in the women's singles as she fought tooth and nail on the dusty hard court against the more seasoned SharrmadaaBalu. Riya used her groundstrokes and good temperament to outslug Sharrmadaa 6-3, 5-7, 7-6 (7/5) in the ladies semi-final.

On Saturday, in the title round, Riya faces EeteeMaheta who beat PranjaliYadlapalli 6-4, 6-3.

"I am very excited about reaching the final. It was a crazy match and Sharrmadaa played a good game. It was tough and I am happy that I won," said Riya.

In the junior section, DhruvSunish beat Paramveer Singh Bajwa 6-4,6-4 in the under-18 semi-final. "'It's the first time I have entered the National finals, I am very happy as I lost the opportunity in Chennai a month back," said Dhruv.

Dhruv has a good competitor to meet in the final as he faces Nitin. Nitin beat Sakshineshwar Suresh 6-2,6-0
The girls final will be contested by AkanshaBhan and Humera Shaik.

Akansha beat Lalitha Devarakonda 6-2,6-1 in a one-sided semi-final. "Fenesta Nationals is big. I am really excited about entering the finals, I played tough and am happy that I got through. Last year I played the finals of Under 16 category," said Akansha.

Humera Shaik beat Y Sai Dedeepya 4-6,6-3,6-2 in a long and tough match where both players competed hard.

"It feels really great to be in the final at the Nationals. I will try my best tomorrow to win the title," said Humera.
The Finals of the Double's in all categories took place today:
Men's Doubles:
Winners: Kunal Anand & Anvit Bendre
Runners Up: Paramveer Singh Bajwa & Param Pun
Women's Doubles:
Winners: SowjanyaBavisetti / Rishika Sunkara
Runners up: Shweta Rana / EeteeMetha

Boys Under 18 Doubles:
Winners: BR Nikshep& Nitin Sinha
Runners Up: DhruvSunish&Ishaque Iqbal

Girls Under 18 Doubles:
Winners: Sravya Shivani & Tanisha Kashyap
Runners Up: SabhyataNihalani&Yubrani Banerjee
Results at 6pm:
Men's Singles:
Vishnu Vardhan (Seed 1) btKunalAnand6-3, 6-1; SVishwakarmabtHadinBava6-3, 6-3
Women's Singles:
EeteeMaheta (Seed 6) btPranjalaYadlapalli6-4, 6-3; Riya Bhatia btSharrmadaaBalu6-3, 5-7, 7-6 (7/5)
Boys' under-18:
DhruvSunish (Seed 2) btParamveer Singh Bajwa 6-4, 6-4; Nitin Kumar Sinha (Seed 3) btDhakshineswarSuresh 6-2, 6-0
Girls under 18:
Akanksha Bhan (Seed 3) btLalitaDevarakonda (Seed 5) 6-2,6-1; Humerashaikbt Y Sai Depeepya4-6,6-3,6-2
Men's Doubles:
KunalAnand and Anvit Bendre bt Paramveer Singh Bajwa and Param Pun- Score - 7-5, 6-4
Women's Doubles:
Sowjanya Bavisetti and Rishika Sunkara bt Shweta Rana and Eetee Maheta 4-6,6-1,10-7
Boys under 18 Doubles:
B R Nikshep and Nitin K Sinha bt Dhruv Sunish and Ishaque Iqbal- 6-4, 6-3
Girls under 18 Doubles:
Sravya Shivani and Tanisha Kashyap bt Sabhyata Nihalani and Yubrani Banerjee 6-1, 7-6(5)